Johnathon Byrne—a British business owner who has muscular dystrophy (MD)—has filed a lawsuit against Texas A&M University for allegedly violating his civil rights.
During a visit to Texas A&M, Byrne—who must use a wheelchair at all times—peacefully requested to see the dogs who have been bred to suffer from canine MD and are imprisoned in a laboratory there.
Following that request, university police detained him, booted him from campus, and banned him from returning for two years.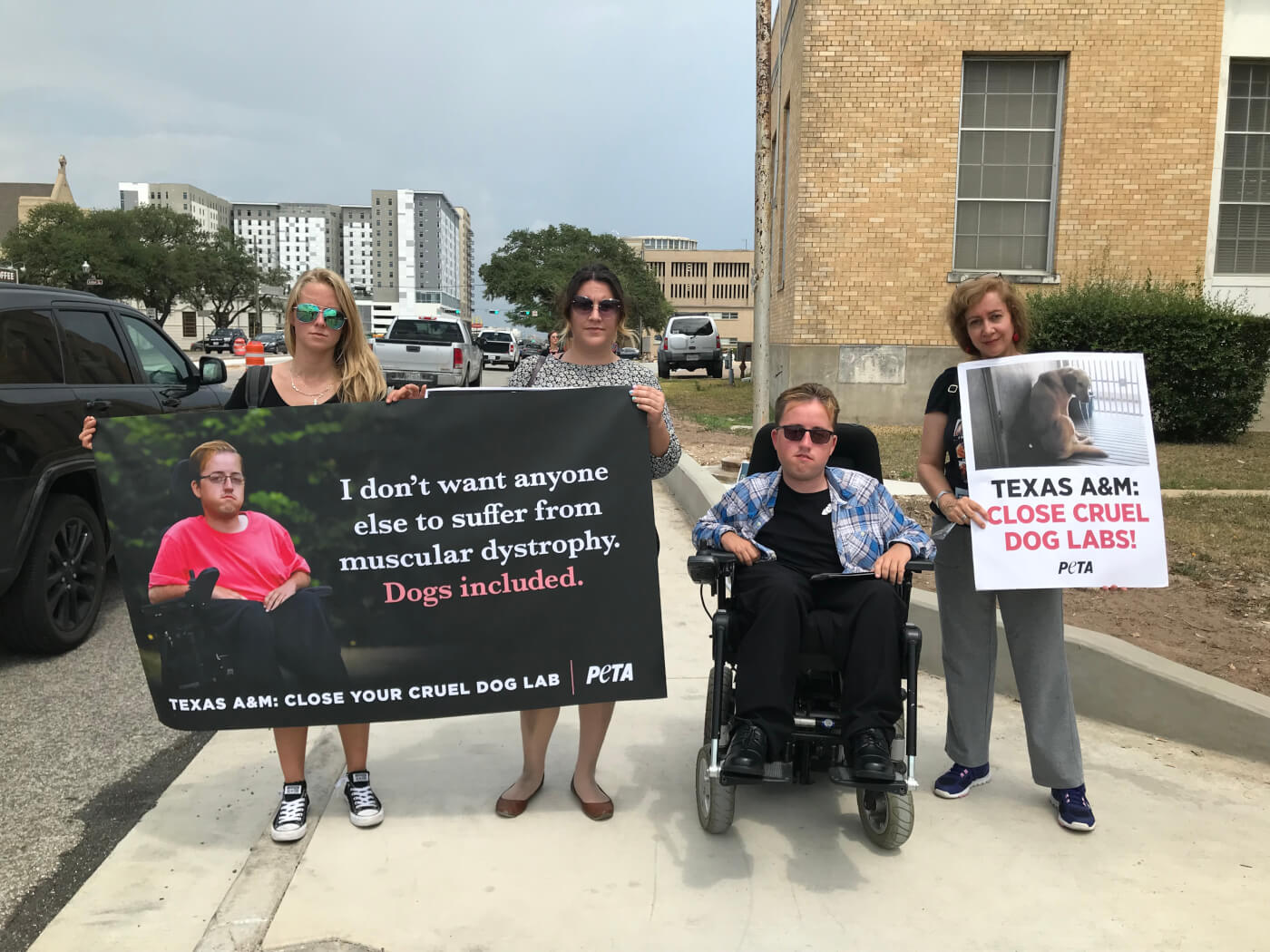 The lawsuit alleges that the school flagrantly violated Byrne's constitutional rights that guarantee free speech and protection against false arrest.
Help the dogs whose suffering in Texas A&M's cruel and useless MD experiments Byrne cares so deeply about:
https://support.peta.org/page/1007/action/1?utm_source=PETA::E-Mail&utm_medium=Alert&utm_campaign=0619::viv::PETA::E-Mail::Man%20With%20Muscular%20Dystrophy%20Harassed%20at%20Texas%20AM::::aa%20em&ea.url.id=248780
At Texas A&M University (TAMU), experimenters led by Joe Kornegay breed golden retrievers to develop canine muscular dystrophy (MD). This disease ravages their bodies, causing progressive muscle wasting and weakness. Studies using these animals haven't led to a cure or even a treatment to reverse disease symptoms.
Video footage shows that the appallingly thin dogs in Kornegay's laboratory were caged, sometimes alone, in barren metal cells and struggled to swallow thin gruel—the only food that they could eat, given how easily they could choke. Long ropes of saliva hung from the mouths of those whose jaw muscles had weakened. Even balancing was difficult. Dogs with this condition are also at great risk for contracting pneumonia because they can easily inhale liquid into their lungs.
Dogs who didn't have the disease but carried the MD gene were used for breeding. Deprived of loving homes, they frantically paced across the slatted floors and bit the bars of the small cages in frustration. They didn't even have the comfort of a blanket.
To gauge just how much a dog's muscles have deteriorated, Kornegay has invented a crude technique that could pass for medieval torture: He repeatedly stretches them with a motorized lever in order to cause muscle tears.
Kornegay has been at this for more than 35 years. Puppies in his laboratory who are born with MD are so weak at birth that they require extra nutrition. By 6 weeks of age, their hind limbs have shifted forward, making walking difficult, and some are unable to open their mouths or jaws.
Take Action – help the suffering dogs:
Director Richard Linklater, actor Lily Tomlin, political commentator Bill Maher, NFL player Ryan Tannehill, and, most recently, musician Nikki Sixx have all spoken out against TAMU's MD experiments on dogs. Please join them by urging the university to close its dog laboratory, stop breeding dogs to have MD, release all dogs for adoption into good homes, and redirect its resources toward humane research methods.
https://support.peta.org/page/1007/action/1?utm_source=PETA::E-Mail&utm_medium=Alert&utm_campaign=0619::viv::PETA::E-Mail::Man%20With%20Muscular%20Dystrophy%20Harassed%20at%20Texas%20AM::::aa%20em&ea.url.id=248780