WAV Comment: Here in England; there has been no real summer – it has rained a lot for weeks; suddenly in the last few days it is clear sky and temperatures are at 31 degrees. Germany, Belgium and the Netherlands are having huge rainstorms, and over 150 people have been killed.
https://www.theguardian.com/world/2021/jul/18/angela-merkel-to-visit-flood-ravaged-areas-in-germany
https://www.bbc.co.uk/news/world-europe-57858829
Mr EX President Trump was full of self gratification for pulling out of the Paris climate accord agreement. I remember watching all the 'seals' clapping him on the White House lawn when he announced. Fortunately President Biden has tons more sense and has re joined.
If anyone wants to send this to Trump, and Bolsonaro, then great. 2 fools who between them have contributed to major global environmental damage. Thank god that at least one of them is no longer in charge !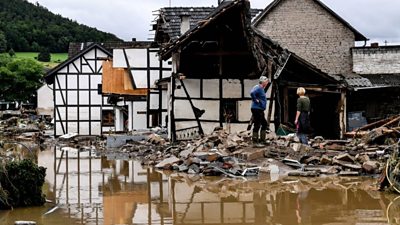 Above – Germany (BBC)
Amazon Rainforest Now Emits More CO2 Than It Absorbs For First Time
Animal agriculture has been linked to the worsening state of the Amazon rainforest
For the first time, the world's largest rainforest is worsening the climate crisis, a new study has found. The Amazon rainforest's ability to absorb emissions once slowed down climate change, but it now expels a billion tonnes of carbon dioxide every year.
Many of the emissions are caused by fires intentionally set to clear land for beef and soy production. A lot of the soy produced is fed back into the meat industry. In fact, according to WWF, nearly 80 percent of the world's soybean crop is fed to livestock.
Rising temperatures and droughts are also contributing to increased emissions.
Scientists Warn Human Impact On Amazon Rainforest Is 'Worse Than We Realize'
'Accelerating climate change'
Brazil's National Institute for Space Research led the study, which spanned over a nine-year period. Researchers launched around 600 flights over four main sites in the Brazilian Amazon. This allowed them to record carbon dioxide and carbon monoxide levels up to 4,500 meters above the forest.
They discovered that while the rainforest soaks up 0.5 billion tonnes of CO2 annually, it emits 1.5 billion. The remaining 1 billion tonnes left in the atmosphere is equal to the annual emissions of Japan – the fifth-largest polluter in the world.
Luciana Gatti, who led the research, said to The Guardian: "The first very bad news is that forest burning produces around three times more CO2 than the forest absorbs.
"The second bad news is that the places where deforestation is 30 percent or more show carbon emissions 10 times higher than where deforestation is lower than 20 percent."
She added: "Imagine if we could prohibit fires in the Amazon – it could be a carbon sink. But we are doing the opposite – we are accelerating climate change."
https://plantbasednews.org/news/environment/amazon-rainforest-emits-more-absorbs/