WAV Comment – an interesting article which really should be read in full.
You can do that via this link:
https://www.dailymail.co.uk/news/article-8099995/Chinese-company-claims-eating-dogs-way-cultural-confidence.html
Quote from Daily Mail:
"Chinese firm encourages people to EAT DOGS to show 'cultural confidence' as it boycotts drafted law that bars pet meat from the dinner plate in the wake of coronavirus outbreak
The claim was made by a firm specialising in making dog meat dishes in China
It alleged that lawmakers in Shenzhen drafted the proposal to appease the West
It blasted the proposal as a 'denial to thousands of years of Chinese food culture'
Animal activists have urged China to forbid the consumption of dogs for years 
The drafted law is currently under assessment by the government of Shenzhen
A company specialising in making dog meat dishes has claimed that eating dogs is a way for Chinese people to show their 'cultural confidence'.
Fankuai Dog Meat from eastern China made the statement in a blog post while protesting against a proposed law which bans people from consuming pets in the wake of the coronavirus outbreak.
 The brand claims that lawmakers in the city of Shenzhen drafted the proposal to appease the West".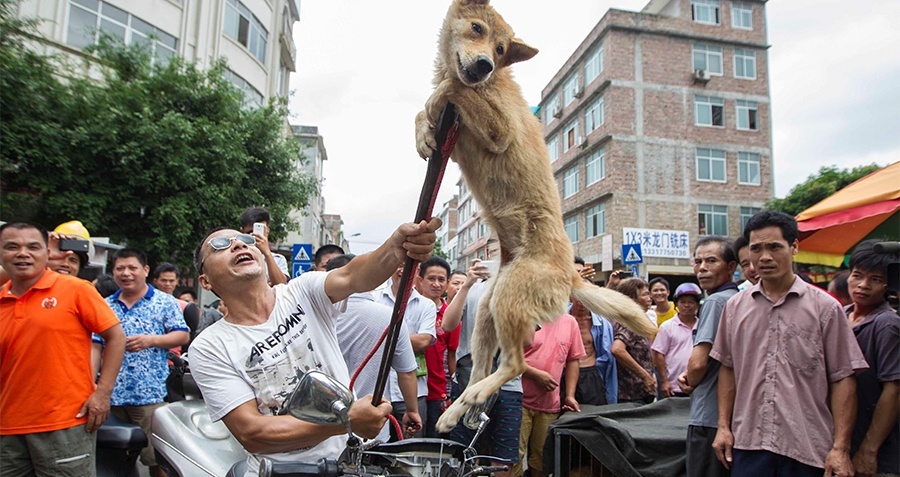 Yulin – the 2020 Lychee and Dog Meat Festival is scheduled to begin on Sunday 21 June and ends on Tuesday 30 June.
In 2019 over 1.5 million people signed a petition calling for China to ban the Yulin dog meat 'festival'. It was delivered to the Chinese Embassy in London by Dame Judi Dench.
Read our link here from that time:
https://worldanimalsvoice.com/2019/06/21/judi-dench-and-others-speak-out-against-chinas-yulin-dog-meat-festival-a-1-5-million-signature-petition-submitted-to-chinese-embassy-in-london-this-week/
Guess what; the Chinese authorities ignored the petition; as they have ignored everything about improving the situation for animals in China to date.
Well now the ignorance of the Chinese government is biting back at them big time.
Their actions have spread virus across the world, and suddenly now, much too late in the midst of the crisis; they turn turtle and attempt to introduce legislation involving animals.
Take this simple fact on board – China – Too Little, Too Late. Now the price of your ignorance is being paid.
Look at the following pictures – a bloke smokes a cigarette whilst preparing 'food' (dog) for others to eat !!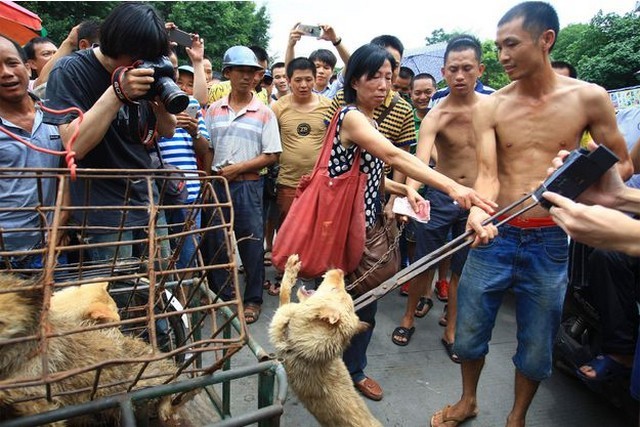 If the Chinese government have any sense; then can we expect the Yulin Dog Meat 'festival' to be banned from now on – remember all the scenes ?; we do; pitiful animals being kept in the most horrendous conditions.
Those same animals then being slaughtered in barbaric ways; blowtorch etc; by street vendors standing there proudly smoking old fags in utterly un hygienic conditions – just like the wet markets we have seen photos of since the spread of Coronavirus.
Do these people ever make any links ? – you have to ask.
Other Yulin links from our site – you only have to lok at the photographs and the conditions in which animals are kept, slaughtered, and consumed to see that this place is a hotbed for the spread of virus and disease.:
https://worldanimalsvoice.com/2019/06/03/yulin-a-city-in-blood-orgies/
https://worldanimalsvoice.com/2019/05/08/china-yulin-is-coming-take-action-now/
https://worldanimalsvoice.com/2019/06/22/yulin-is-eyerywhere/