Exploited Twice Over
Records linked to the dogs' tattooed identification numbers showed that Hemopet acquired them from Florida racetracks and Kansas breeders. The facility also obtained dogs used for racing by Lonnie Boyle, who was fined after eight greyhounds died of suspected heatstroke as he hauled them across the country. Some dogs arrived at the facility with leg and foot injuries from the racetrack, while others who arrived from Florida developed inflamed "hotspots."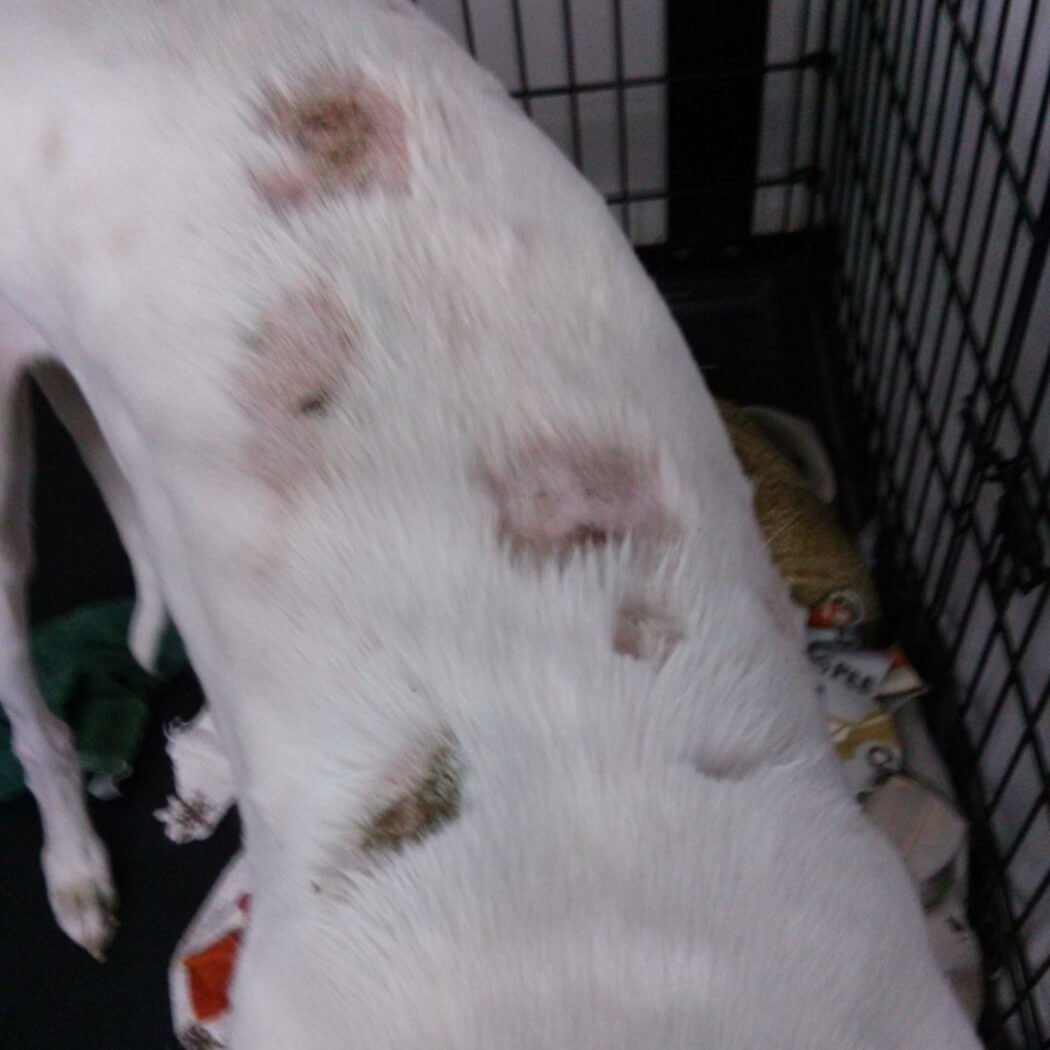 In the wake of PETA's exposé of The Pet Blood Bank, Inc., in Texas, the National Greyhound Association (NGA) claimed to have barred its members from directly sending greyhounds to any blood bank operation. So how did Becka and Choice, who were bred and raced by NGA Board of Directors president Julia Ward, end up at Hemopet?
Jean Dodds, 'Grandmother' of Imprisoning Dogs for Blood?
All this and more takes place at a business founded by Jean Dodds, who—although referring to herself as the benign "grandmother of blood-banking for animals"—once worked on an experiment in which cobra venom was injected into guinea pigs. Despite taking in over $1 million in blood product sales in 2016 alone from the dogs it obtains and bleeds, Hemopet keeps dogs in these substandard, desolate conditions. Meanwhile, Dodds reportedly spends much of her time in Venice, Italy, and one staffer said it would take her a week to respond to a question about the greyhounds' health from there. Another employee said that Dodds rarely visits the greyhounds, and the eyewitness only saw her once in almost three months of volunteering—when a film crew was there to interview her.
And believe it or not, Hemopet is registered as a nonprofit even as it rakes in the cash from the blood of the dogs it claims to "rescue." This means the donations the company collects to keep dogs in barren enclosures are tax-deductible.
What You Can Do
None of these dogs' suffering, stress, or deprivation is necessary. Many veterinary clinics help save sick and injured dogs' lives by working with dog guardians who are willing to volunteer their large, calm, healthy dogs for blood draws. These dogs get to go home to their comfortable lives afterward.
According to Dr. Linnaea Scott, a veterinarian with over 10 years of experience in emergency medicine, "In the case of a shortage, we find another way to help the anemic patient. We get the blood from the clients' other Labrador, from the veterinary technician's 80-lb. Rottweiler, or from any number of large dogs who will probably never donate ever again. … Veterinarians are resourceful and we will find another way" to obtain blood for transfusions besides relying on dogs kept captive at blood banks [emphasis added].
Dr. Nicholas Dodman, canine behaviorist and professor emeritus at Tufts University's Cummings School of Veterinary Medicine, wrote, "These conditions … remind me of how farmed animals are intensively confined to produce meat, milk and eggs. To keep a dog lying in a crate, or muzzled in a kennel, with such limited space in prison-like conditions for 23 hours each day is unacceptable. … Animals donating blood should be kept in homes, not cages" [emphasis added].
Please, urge your veterinarian not to purchase blood from dogs kept captive and to obtain blood only from dogs who get to live as all dogs should—in homes with loving families.
Please urge the NGA to bar its members' dogs from being held captive in blood banks—including those operated by purported "rescues"—effective immediately. While the NGA claims to have barred its members from directly sending greyhounds to any blood bank operation, members can apparently still send dogs to sham "rescues" like Hemopet and others that leave the dogs in these canine prisons. Demand that the NGA take immediate and decisive action to remove all dog blood donor colonies from its list of acceptable facilities.
Please send polite comments to:
Jim Gartland
Executive Director
National Greyhound Association
nga@ngagreyhounds.com
Regards Mark