We are currently attempting to get e mail contact details for the Ministry of Agriculture so that you can write to them expressing your disgust at their attempts to change the legislation. We will publish as soon as we have information – WAV.
Dear all;
Here is an update on the situation relating to the German pig issue.
Please see our recent past posts:
1 This gives an overview of the situation – https://worldanimalsvoice.com/2020/02/01/an-open-letter-to-the-eurogroup-for-animals/
2 And here is a rather dramatic video showing the situation for intensively reared (caged) pigs -WARNING: Distressing Images –   https://worldanimalsvoice.com/2020/02/03/germany-please-make-the-connection/
Over the last few days (early February) we have collaborated with our good friends at Compassion In World Farming (UK) – https://www.ciwf.org.uk/ and also established very promising links with contacts at CIWF Italia (Italy) – https://www.ciwf.it/ to further actions on this issue. CIWF UK are currently running the campaign to End the Cage Age right across Europe. Please read more and see video footage at – https://www.ciwf.org.uk/our-campaigns/end-the-cage-age/
And so on the (German) subject of extending the pig boxes for 17 years:
As Venus has rightly written in communications today:
It is a first-class crime that these metal prisons are still allowed in a country like Germany, which – at least in theory – has anchored 'animal welfare' as a state goal in the Basic Law.
In the previous version of the Animal Welfare / Animal Husbandry Ordinance (1), Section 5 determines Section 24 (4)…is clear:
(Pig) Box stands must be designed so that:
– the pigs cannot injure themselves and
– Each pig can stand free, lie down and stretch its head and side members.
A total of three courts have already ruled that the sows must lie down in the crate and that the limbs must be able to stretch out on their side. Anytime and unhindered.
The legal regulation was so clear that the Magdeburg Administrative Court, the Higher Administrative Court of the State of Saxony-Anhalt and the Federal Administrative Court expressly approved this in the years 2014 to 2016.
Now the Federal Government, together with Agriculture Minister Julia Klöckner (CDU), wants to delete this part of the regulation, which provides that the sows in the crates may at least stretch their limbs and their heads in a lying position. Only in this way (by deletion) she can legalize her decision to keep these cages for another 15/17 years.
The German Minister's proposal is really dangerous for different reasons:
–           It would legalise the suffering of millions of German sows in narrow stalls for the next 15-17 years and to do that it would set a precedent, i.e. worsen existing legislation by deleting the national legislation paragraph saying that sows should stretch their legs. A very dangerous precedent, which could then be repeated on other issues.
–           It could undermine ECI asks as Germany will soon hold the presidency of the EU.
We comment – As an EU 'civilised' nation; should Germany be attempting at all costs to improve its animal welfare, rather than taking steps back; as this proposal would ? – How are nations in the Far East (for example) expected to improve their welfare when Germany adopts this kind of negative stance ?
That's what it's about here.
The Federal Council should have voted on this (practically unlawful) extension on December 2, 2019 (i.e. approval would allow the crates for another 17 years).
The decision was postponed to February 14 2020, because we (in the animal welfare movement) protested and blessed Klöckner with petitions and demos and war over the Internet.
The decision of February 14th will be binding. How sad that this is the same date (14/2) when you should show love and respect – Valentines Day.
Many groups and citizens from all over the EU, and also other nations, are trying to make their voices heard about this very important issue before, and on 14th February.
In view of the 27th of January 2020, (a session of the German Agri Committee) the 27th was a 'non-public one' and little has been revealed after it.
What we know so far:
The

Agri Committee seems to have made many amendments

to the draft sow bill but has still approved it (it

could have rejected it

)

IMPORTANT Positive

– But it also seems that the Land Sachsen Anhalt

managed to have an 'amendment' approved

which basically says that sows should be able to stretch their legs during the phase-out period!
Phase out period for sow stalls should have been shortened from 17 to 10 years- for farrowing crates no change.
So, point 2. Above (the Amendment) could potentially mean the end of the Minister's proposal. Since the whole construction of her new regulation was based on making current sow stalls legal. And this can be done only by deleting the paragraph mentioning leg-stretching.  The submitted Proposal changes this and says that sows should be able to stretch their legs during the phase-out period
It is getting legal and becoming a strong fight by both pro animal welfare advocates; and also the government who wish change. With the Point 2 issue above we (in the welfare movement) are hopeful of a positive end result; but actions will continue to the end. For the pigs, regardless of the result; their confinement will not end. – the 'Eternal Treblinka' policy.
CIWF and its partners from the ECI and Eurogroup coalitions will participate in a protest on the 14th in front of the Bundesrat, an action being coordinated by friends at Four Paws – https://www.four-paws.org/campaigns-topics/topics/farm-animals . They are also exploring additional actions.
So; whoever you are and wherever you are, if you want to help get part justice for the caged pigs then search the web and try to take part in written or physical protests. There is one final chance on 14/2 and it needs to be in the favour of the pigs that are suffering enough now as it is, let alone with this changed legislation.
Please keep up the fight and be a voice until then at least – there is very little time left.
Regards to all of you from Mark, Venus (WAV) – Annamaria, Philip and all the crew at CIWF (UK and Italy).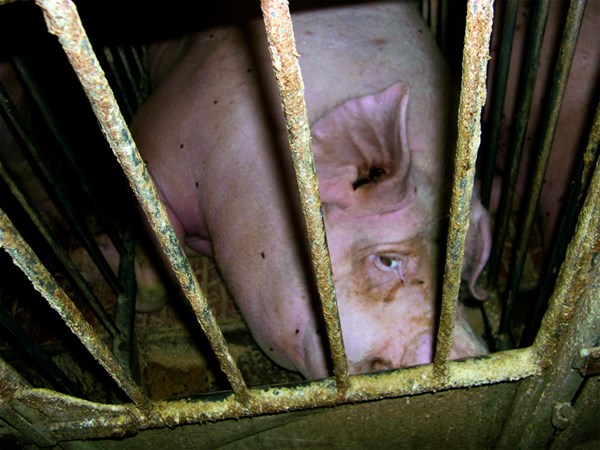 Photo – CIWF