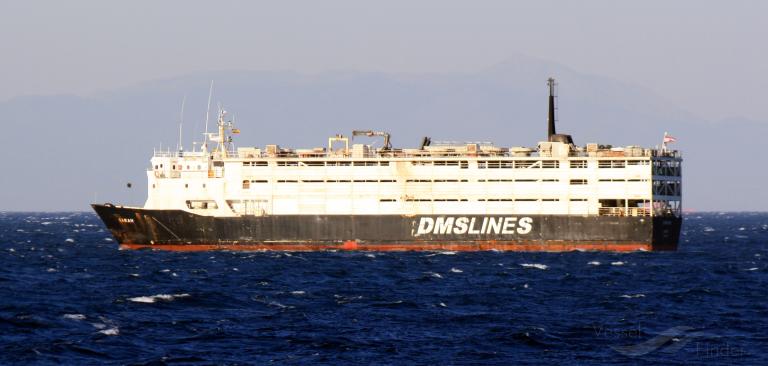 What with the Panama registered livestock ship (Sarah M) operating for Irish exporters taking Irish cattle to Libya; and the environmental disaster today relating to a 'Japanese owned' but Panama registered tanker "Wakashio", causing environmental havoc in Mauritius, I decided to look into 'Panama and shipping' a little more.
With great help from the BBC in London, here is what was found.
Panama is a small nation of approximately three million, yet it has the largest shipping fleet in the world, greater than those of the US and China combined.
Thanks to its location and slender shape, Panama enjoys a position as the guardian of one of the world's most important marine trade routes, which connects the Pacific and Atlantic oceans.
Cheaper foreign labour
Most merchant ships flying Panama's flag belong to foreign owners wishing to avoid the stricter marine regulations imposed by their own countries.
Panama operates what is known as an open registry. Its flag offers the advantages of easier registration (often online) and the ability to employ cheaper foreign labour. Furthermore the foreign owners pay NO income taxes.
About 8,600 ships fly the Panamanian flag. By comparison, the US has around 3,400 registered vessels and China just over 3,700.
Under international law, every merchant ship must be registered with a country, known as its flag state.
That country has jurisdiction over the vessel and is responsible for inspecting that it is safe to sail and to check on the crew's working conditions.
Open registries, sometimes referred to pejoratively as flags of convenience, have been contentious from the start.
By last year, almost three quarters of the world's fleet was registered under a flag of a country other than its own.
The registry is lucrative for Panama, bringing in half a billion dollars for the economy in fees, services and taxes.
However, critics of the system point to the ease of hiding the true identity of shipowners and the lax enforcement of rules and regulations.
Luis Fruto, representative of the International Transport Workers' Federation (ITF) in Panama, says the country turns a blind eye to its "responsibilities in order to acquire higher registration".
The ITF has led a campaign against flags of convenience since 1958. It considers that Panamanian registration is better than some "from a safety viewpoint, but it remains seriously flawed in areas such as oversight, accident investigation and crew assistance".
Two years ago, Mr Fruto investigated the death of a woman sailor, 22, on her first voyage. She became trapped in machinery that was reportedly faulty and died.
The ITF says that, rather than heading for the nearest port as rules dictate, the ship continued to sail for more than two weeks with her body in a freezer.
Further investigation by the ITF suggested that some of the shipping certificates had been bought.
International legal requirements insist that countries operating open registries inspect vessels, comply with international regulations and investigate accidents and corruption.
But critics say that Panama cuts corners in all these tasks, putting maritime workers at risk.
Indeed, accidents involving Panamanian-registered ships are high.
In 2000, ITF general secretary David Cockroft was able to buy a Panamanian first officer's certificate for $4,000 to navigate a ship – even though he had no maritime skills or experience.
Despite repeated assurances that the country was cleaning up its act, Roberto Linares, the head of the Panama Maritime Authority, resigned in June after it was discovered that workers were being certified without the proper qualifications.
"Panama's registry will last for ever," said Jorge Luis Sanchez, professor at the International Maritime University of Panama. "Those who don't like the open registry can opt to do something else with their ships."
Jazmina Rovi, former director of the Panama Maritime Law Association, said unions are better off enforcing uniform standards than eliminating the registry altogether.
With the new maritime administrator sworn in last month, it remains to be seen whether Panama will crack down on corruption and safety breaches or continue to live with the taint that still clings to flags of convenience.
We (WAV) doubt that the crew operating the Panamanian registered livestock vessel 'Sarah M' are that familiar with the EU Regulation 1/2005 on the protection and welfare of animals in transport. Thus, one has to ask if the Irish operators of the Libyan consignment; the Purcell Brothers and Curzon Livestock. have concerns about animal welfare; or is it simply a case of getting the cheapest deal possible to operate a shipping vessel to carry livestock at any cost – and that is to find one registered in Panama ?
Regards Mark