WAV Comment – we are an animal rights group; but that does not stop us from sometimes dealing with human rights issues also when we think it is right. Here are a few stories from Brazil which we hope you will enjoy reading and support. We hope this information will help one of our supporters, Barbara Crane Navarro – of the Rainforest Art Project;
Barbara Crane Navarro | Rainforest Art Project – Pas de Cartier ! (barbara-navarro.com)
Regards Mark
Brazil's Supreme Federal Court has ordered an inquiry into the sale of protected areas of the Amazon rainforest via Facebook.
It follows a BBC investigation, which revealed plots as large as 1,000 football pitches listed among the platform's Marketplace classified ads.
The court is asking the government to "take the appropriate civil and criminal measures".
Facebook has said it is "ready to work with local authorities".
But the tech firm has indicated it will not take independent action of its own to halt the trade.
The Amazon is the largest rainforest in the world and a vital carbon store that slows down the pace of global warming. It is home to about three million species of plants and animals, and one million indigenous people.
Still online
Brazilian Supreme Court Justice Luís Roberto Barroso has asked the country's attorney general and Ministry of Justice to investigate the BBC's findings.
He was already overseeing a lawsuit brought to the Supreme Federal Court by an NGO – the Articulation of Indigenous Peoples of Brazil – and six political parties.
The plaintiffs have accused the government of failing to do enough to prevent the coronavirus from affecting indigenous communities.
The judge took the decision to extend the case to include the Facebook ads.
And he drew particular attention to the Uru Eu Wau Wau community. The BBC's documentary reported that land inside a reserve used by the indigenous group had been listed for sale for the equivalent of about £16,400 in local currency.
No papers
The BBC has flagged up some of the ads involved to Facebook, but the social media giant has failed to remove them.
The listings include areas inside indigenous territories and national forests, which have protected status.
Some feature satellite images and GPS co-ordinates. Many of the sellers admit to not being able to prove legal ownership.
To find them, users need only type the Portuguese for terms such as "forest", "native jungle" and "timber" into Facebook Marketplace's search tool, and pick an Amazonian municipality as the desired location.
The BBC arranged meetings between four sellers on Facebook and an undercover operative posing as a lawyer, who claimed to represent wealthy investors.
The sellers caught on hidden camera were illegally selling and clearing rainforest so it could be used as cattle pasture and farmland.
'Stolen land'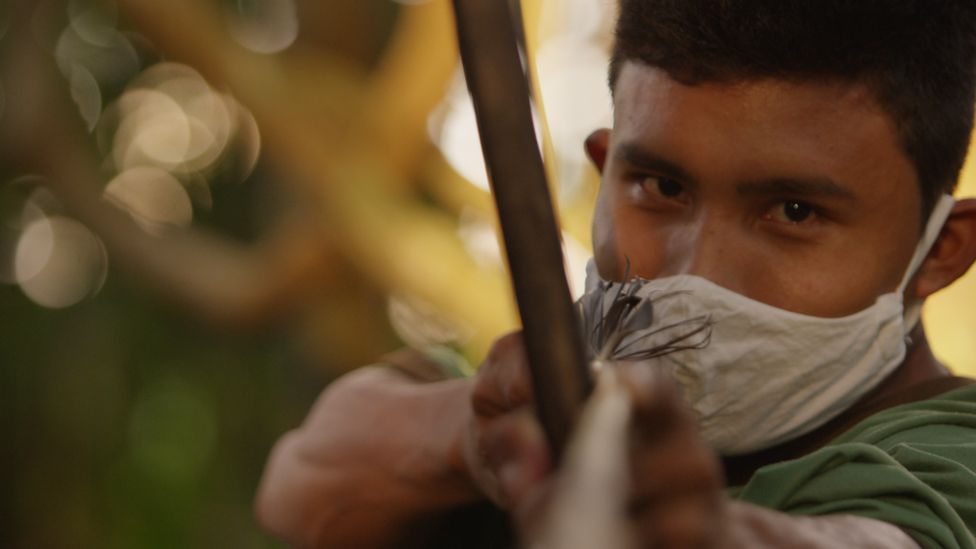 The head of the Brazilian Senate's Environment Commission, Senator Jaques Wagner, has described the land deals as "criminal".
He said his panel of lawmakers would write to Facebook demanding it "review its policy so that this practice is curbed".
Facebook has previously indicated it believes the task of trying to deduce which sales are illegal is too complex for it to carry out itself.
But one congressman mocked this explanation.
"What is the difference between selling stolen land with violence against indigenous rights on Facebook and selling narcotics through the platform?" asked Nilto Tatto, a member of the lower house's environment commission.
"Can Facebook then be used to sell narcotics? As a parliamentarian, I will ask this question."
International pressure
Photo – Getty Images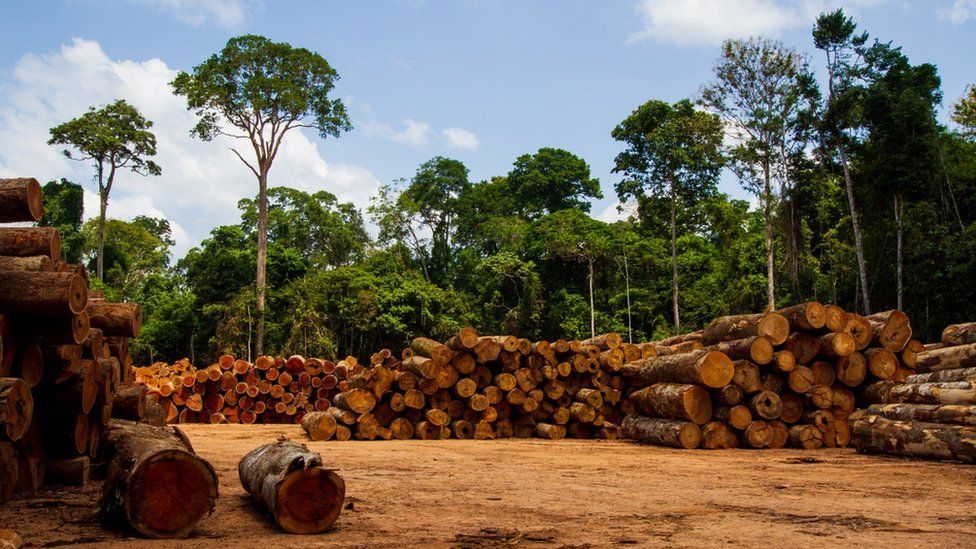 Brazil's government has faced international criticism for failing to curb deforestation, which is at a 12-year high.
Conservationists have accused the country's President Jair Bolsonaro of encouraging loggers and farmers to clear parts of the rainforest.
And some of the sellers captured on hidden camera by the BBC said they viewed him as an ally.
The BBC approached Brazil's Minister of the Environment Ricardo Salles with the findings of its investigation.
He said: "President Jair Bolsonaro's government has always made it clear that his is a zero-tolerance government for any crime, including environmental ones."
A UN Environment Programme spokesperson told the BBC: "Illegal deforestation undermines international treaties and commitments, including the Paris Agreement and the Convention on Biological Diversity."
Read more about the BBC's investigation here.
Watch Our World: Selling the Amazon on BBC iPlayer here
https://www.bbc.co.uk/news/technology-56272379
And …
Amazonian groups sue French supermarket chain over deforestation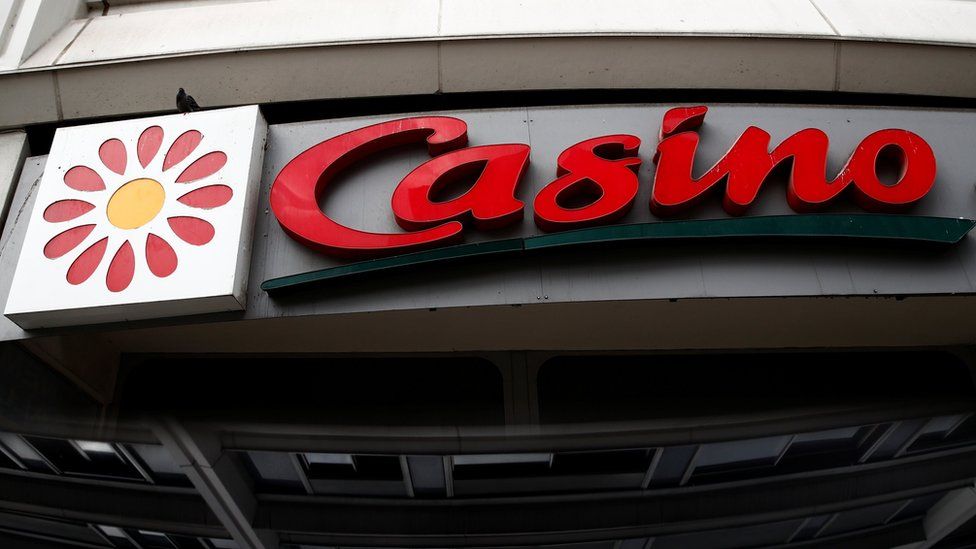 French supermarket chain Casino is being sued by indigenous groups from the Amazon, for allegedly selling beef linked to deforestation.
The 11 indigenous groups, backed by NGOs in the US and France, are seeking €3.1m ($3.7m; £2.7m) in damages.
In a statement, the groups linked Casino meat to an area of deforestation "five times the size of Paris".
Casino told AFP and Reuters news agencies that it took a "rigorous" approach to its supply chains.
The company is being taken to court under a French law enacted in 2017. Under the law, businesses must avoid human rights and environmental violations in their supply chains.
The indigenous groups from Brazil and Colombia have accused Casino of "damages done to their customary lands and the impact on their livelihoods".
In the statement they said deforestation in South America, particularly in Brazil, was mainly driven by cattle ranching.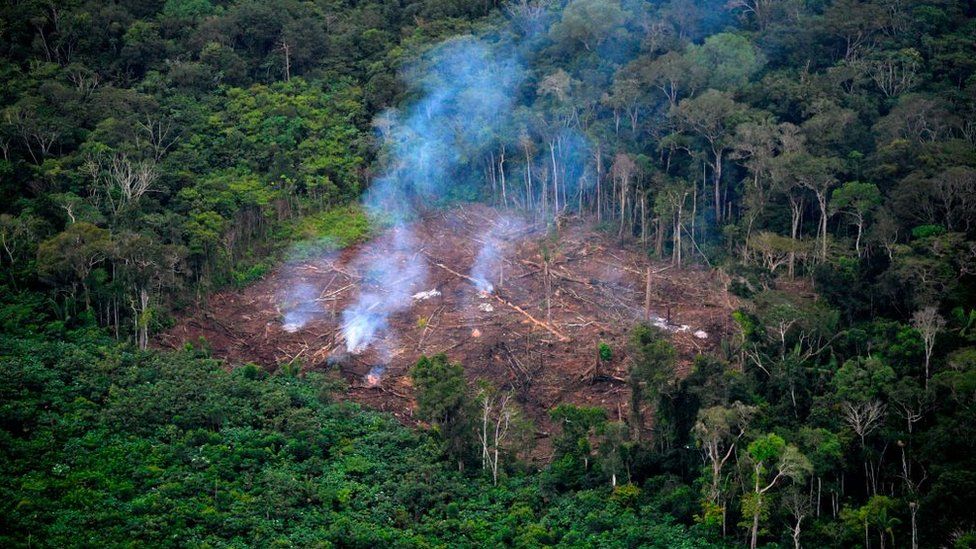 "According to evidence compiled and analysed by the Center for Climate Crime Analysis for this case, Groupe Casino regularly bought beef from three slaughterhouses owned by JBS," a meatpacking company accused of deforestation, they said in a joint statement.
"The three slaughterhouses sourced cattle from 592 suppliers responsible for at least 50,000 hectares of deforestation between 2008 and 2020… The deforested area is five times the size of Paris."
Casino also controls Brazil's largest food retailer, Grupo Pão de Açucar (GPA), and Colombian retailer Almacenes Éxito.
The indigenous groups also accuse Casino of violating indigenous rights, and cite one case in particular in which indigenous lands were invaded and used by cattle farms that supplied beef to GPA.
"The demand for beef by Casino and Pão de Açucar brings deforestation and land-grabbing and violence, and the murder of indigenous leaders when they choose to resist," Luiz Eloy Terena, a leader of Brazil's Terena people, said in the statement.
"With this lawsuit, we seek to hold the company accountable for the consequences of these impacts and to bring some relief to the reality confronted by our indigenous peoples on their lands."
Casino told Reuters news agency that its Brazilian-sourced beef was not sold in its French shops.
GPA also told the agency that in 2016 it set out criteria that its suppliers must comply with – including "zero Amazon deforestation, no slave-like condition, no child labour and no invasions of indigenous land or conservation areas".
https://www.bbc.co.uk/news/world-latin-america-56278819
Above – Bolsano
Regards Mark
Enjoy – Coldplay – Fix You (Live In São Paulo)