Heat and defective hydraulics apparently caused a drama in Rehfeld in the Elbe-Elster district in the state of Brandenburg, Germany yesterday.
According to reports from the Lausitzer Rundschau, 103 of 150 piglets that were supposed to be brought to Lower Saxony for fattening died on the transporter.
The removal and loading of breeding piglets follows its own routine. The work of the breeding farm is finished, the transport company takes over piglets and responsibility.
As the regional newspaper Lausitzer Rundschau reports today, yesterday at Hoyaer Piglet rearing GmbH & Co.KG in Rehfeld (Elbe-Elster district) a drama that began in the morning and only ended in the late evening with the departure of the regional fire departments and over killed a hundred piglets.
Dead piglets: locked in a transporter
According to the report, 150 piglets were already loaded when the hydraulic lifting device on the four-story animal transporter failed.
The result: the piglets that had already been loaded were locked up on the top floor of the transporter.
The employees of the transport company, supported by the employees of the piglet rearing, tried to solve the technical problem. Specialist companies were contacted, and an employee of the truck manufacturer was even on site, those involved reported to the "Lausitzer Rundschau".
They couldn't solve the problem (!!!)

Meanwhile it gets hotter and hotter. The temperature rose to just under 28 degrees in southern Brandenburg on Wednesday.
When the fire brigade was notified at 4:30 p.m., many piglets were already dead.
The fire brigade's comrades tried to unscrew the roof first, reports the head of operations.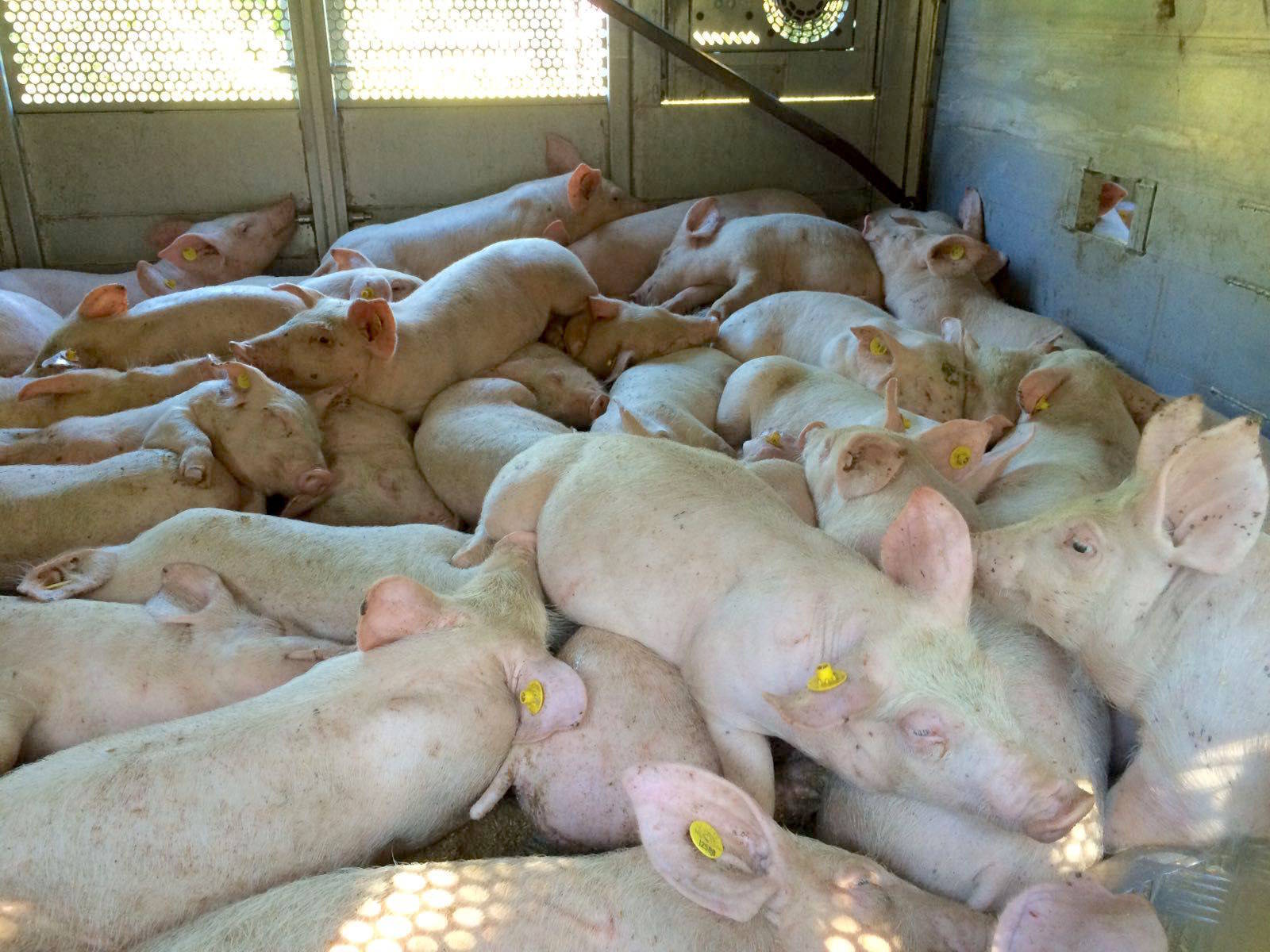 Then openings were flexed into the side walls and the truck driver was prevented from putting himself at risk when trying to help the piglets. The comrades from Rehfeld and Falkenberg left again around 8.30 p.m., writes the "Lausitzer Rundschau".
In retrospect, several defective fuses would have been the cause of the defect.
This realization came too late for 103 piglets.
https://www.bauernzeitung.de/news/defekte-hydraulik-am-transporter-mehr-als-hundert-ferkel-tot/
And I mean…"The removal and loading of breeding pigs takes place according to its own routine. The work of the breeding company is finished, the transport company takes over piglets and takes responsibility".
It took a bunch of useless "professional" idiots a hole day to send 103 piglets to their cruel deaths.
What kind of responsibility are we talking about here, actually?
If a transporter does not even know whether the basic equipment of a truck transporter is functional (but before all animals are penned in it), then that is not called responsibility, this is a company that is no longer allowed to have a license.
But the insurance will pay, the transport company is not worried about that.
Losses are taken into account when transporting animals.
Animal transport is a lucrative business, which is why these mobile coffins are still in use.
My best regards to all, Venus
14/6/21 – Mr Philip Wollen Becomes The First WAV Patron; We Are (More Than) Delighted, and Welcome Him To The Group. – World Animals Voice