Scott Morrison: Australia PM to attend COP26 summit after global pressure
https://www.bbc.co.uk/news/world-australia-58907526
Australia's Prime Minister Scott Morrison says he will now attend the COP26 UN climate conference after weeks of initial hesitation.
Global leaders will meet in Glasgow next month to negotiate a new deal to stall rising global temperatures.
Mr Morrison drew criticism when he indicated last month that he might skip the meeting.
Australia, a large producer of coal and gas, is under pressure to commit to stronger climate action.
Its climate policies and emissions reductions are ranked among the worst in the OECD.
"I confirmed my attendance at the Glasgow summit, which I'm looking forward to attending. It is an important event," Mr Morrison told reporters on Friday.
Climate activists had slated Mr Morrison for not committing to attend, and it was being seen as a diplomatic snub to the UK, a close ally of Australia.
In an interview to the BBC, Prince Charles earlier expressed surprise at Mr Morrison's comments, urging leaders to act urgently to combat climate change.
COP26 will be held between 31 October and 12 November in Scotland's largest city.
It will be the biggest climate change conference since landmark talks in Paris in 2015.
The COP26 global climate summit in Glasgow in November is seen as crucial if climate change is to be brought under control. Almost 200 countries are being asked for their plans to cut emissions, and it could lead to major changes to our everyday lives.
Why the COP26 climate summit is important
Simple guide to climate change
How extreme weather is linked to climate change
Mr Morrison had cited the challenges of Covid as a reason he might not attend, saying he had already served a great deal of quarantine.
But Australia is beginning to make plans to end quarantine requirements.
Many countries have set ambitious targets to achieve net zero emissions by 2050, but Australia has REFUSED to do so.
Analysis: By Justin Rowlatt, BBC climate editor
In poker they call it a "tell": a tiny change in a player's behaviour that signals something crucial about the cards they holding.
Now, the Glasgow climate conference isn't a poker game. Most world leaders do actually understand the huge risks climate change presents and would prefer to minimise its impact.
But they also know doing so could impose real costs on their economies. They would like to see the maximum global action on the issue with the minimum cost to their people.
And for many of them they believe the best way to achieve that is to keep the cards in their hand hidden: to make sure there are no "tells".
Deciding whether or not your leader is going to attend is part of that, it is a way of putting other nations under pressure.
It makes it very difficult for the organisers and – to be honest – isn't helpful for negotiations. But it is a fact of global diplomacy. Let's just hope that they decide to play a more open game when the conference begins.
Australia has committed to a 26% cut on its 2005 emissions by 2030 – a target frequently criticised as too weak.
Experts say it needs to commit to a 47% cut by 2030 if it is to meet the UN goal of keeping temperature rise below or within 1.5C.
Australia is one of the largest emitters on a per capita basis because its energy grid is still largely reliant on coal power.
The conservative government has faced months of pressure, both at home and overseas, to improve its climate policies. It is expected to reveal higher emission targets next week.
"The government will be finalising its position to take to the summit. We're working through those issues," Morrison said on Friday.
Many rural parts of Australia are dependent on coal, gas and farming.
Coal is Australia's second-most lucrative export and it expects demand to continue for at least the next decade.
"The plan that I am taking forward together with my colleagues is about ensuring that our regions are strong, that our regions jobs are not only protected but have opportunities for the future," Mr Morrison said.
Regards Mark
Can we suggest a bigger one to cover your entire head ?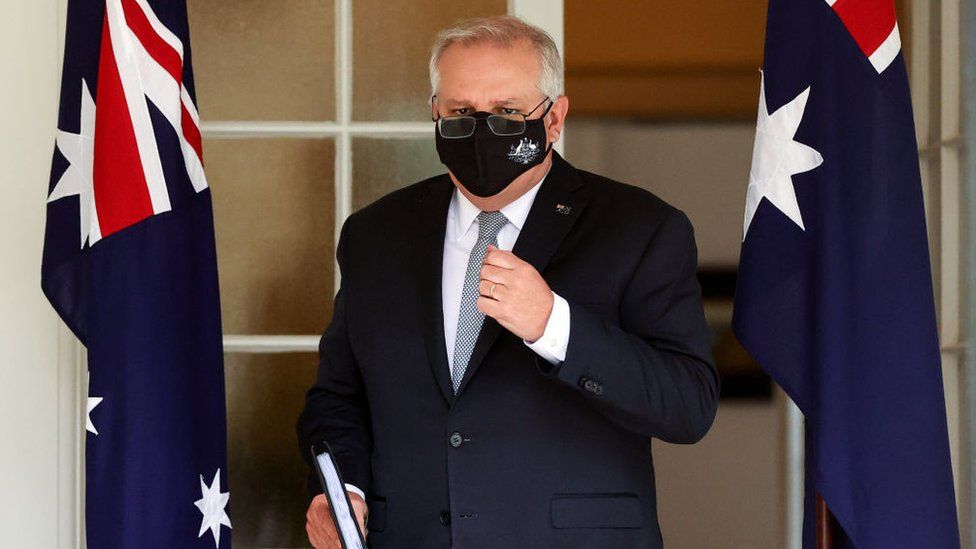 Enjoy !