Yesterday, 15/2 was World Pangolin Day.
Here we want to share a little more about these wonderful animals who, thanks to man; are either listed as vulnerable, endangered or critically endangered.
World Pangolin Day is an opportunity for pangolin enthusiasts to join together in raising awareness about these unique mammals — and their plight. Pangolin numbers are rapidly declining in Asia and Africa.
The demand for pangolins comes mostly from China, where pangolin scales are unfortunately believed to be a cure-all of sorts and pangolin flesh is considered a delicacy. In Vietnam, pangolins are frequently offered at restaurants catering to wealthy patrons who want to eat rare and endangered wildlife. There is no evidence to support claims regarding medicinal properties of pangolin scales or any other part of the pangolin.
Connect, get updates and share ideas for #worldpangolinday at facebook.com/WorldPangolinDay
The following is with thanks to Wikipedia:
Pangolins or scaly anteaters[2] are mammals of the order Pholidota (from the Greek word φολῐ́ς, "horny scale"). The one extant family, Manidae, has three genera: Manis, which comprises four species living in Asia; Phataginus, which comprises two species living in Africa; and Smutsia, which comprises two species also living in Africa.[3] These species range in size from 30 to 100 cm (12 to 39 in). A number of extinct pangolin species are also known.
Pangolins have large, protective keratin scales covering their skin; they are the only known mammals with this feature. They live in hollow trees or burrows, depending on the species. Pangolins are nocturnal, and their diet consists of mainly ants and termites, which they capture using their long tongues. They tend to be solitary animals, meeting only to mate and produce a litter of one to three offspring, which are raised for about two years.
Pangolins are threatened by poaching (for their meat and scales) and heavy deforestation of their natural habitats, and are the most trafficked mammals in the world.[4] As of January 2020[update], of the eight species of pangolin, three (Manis culionensis, M. pentadactyla and M. javanica) are listed as critically endangered, three (Phataginus tricuspis, Manis crassicaudata and Smutsia gigantea) are listed as endangered and two (Phataginus tetradactyla and Smutsia temminckii) are listed as vulnerable on the International Union for Conservation of Nature Red List of Threatened Species.
The physical appearance of a pangolin is marked by large hardened overlapping plate-like scales, which are soft on newborn pangolins, but harden as the animal matures. They are made of keratin, the same material from which human fingernails and tetrapod claws are made, and are structurally and compositionally very different from the scales of reptiles. The pangolin's scaled body is comparable in appearance to a pine cone. It can curl up into a ball when threatened, with its overlapping scales acting as armor, while it protects its face by tucking it under its tail. The scales are sharp, providing extra defense from predators.
Pangolins can emit a noxious-smelling chemical from glands near the anus, similar to the spray of a skunk. They have short legs, with sharp claws which they use for burrowing into ant and termite mounds and for climbing.
The tongues of pangolins are extremely long and – like those of the giant anteater and the tube-lipped nectar bat – the root of the tongue is not attached to the hyoid bone, but is in the thorax between the sternum and the trachea. Large pangolins can extend their tongues as much as 40 cm (16 in), with a diameter of only 0.5 cm (0.20 inches.
Most pangolins are nocturnal animals which use their well-developed sense of smell to find insects. The long-tailed pangolin is also active by day, while other species of pangolins spend most of the daytime sleeping, curled up into a ball.
Arboreal pangolins live in hollow trees, whereas the ground-dwelling species dig tunnels to a depth of 3.5 m (11 ft).
Some pangolins walk with their front claws bent under the foot pad, although they use the entire foot pad on their rear limbs. Furthermore, some exhibit a bipedal stance for some behaviour and may walk a few steps bipedally. Pangolins are also good swimmers.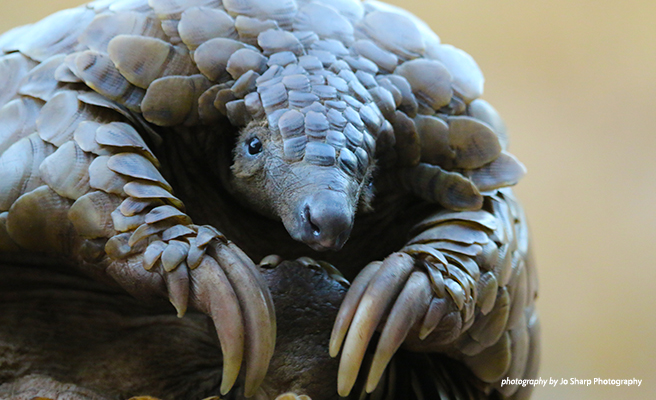 Pangolins are insectivorous. Most of their diet consists of various species of ants and termites and may be supplemented by other insects, especially larvae. They are somewhat particular and tend to consume only one or two species of insects, even when many species are available to them. A pangolin can consume 140 to 200 g (4.9 to 7.1 oz) of insects per day. Pangolins are an important regulator of termite populations in their natural habitats.
Pangolins have very poor vision, so they rely heavily on smell and hearing. Pangolins also lack teeth; therefore they have evolved other physical characteristics to help them eat ants and termites. Their skeletal structure is sturdy and they have strong front legs that are useful for tearing into termite mounds. They use their powerful front claws to dig into trees, ground, and vegetation to find prey, then proceed to use their long tongues to probe inside the insect tunnels and to retrieve their prey.
The structure of their tongue and stomach is key to aiding pangolins in obtaining and digesting insects. Their saliva is sticky, causing ants and termites to stick to their long tongues when they are hunting through insect tunnels. Without teeth, pangolins also lack the ability to chew; however, while foraging, they ingest small stones (gastroliths) which accumulate in their stomachs to help to grind up ants. This part of their stomach is called the gizzard, and it is also covered in keratinous spines. These spines further aid in the grinding up and digestion of the pangolin's prey.
Some species, such as the tree pangolin, use their strong, prehensile tails to hang from tree branches and strip away bark from the trunk, exposing insect nests inside.
Threats to this wonderful little animal
Pangolins are in high demand for Chinese traditional medicine in southern China and Vietnam because their scales are Pangolins are in high demand for Chinese traditional medicine in southern China and Vietnam because their scales are believed to have medicinal properties. Their meat is also considered a delicacy. 100,000 are estimated to be trafficked a year to China and Vietnam, amounting to over one million over the past decade. This makes it the most trafficked animal in the world.  This, coupled with deforestation, has led to a large decrease in the numbers of pangolins. Some species, such as Manis pentadactyla have become commercially extinct in certain ranges as a result of overhunting In November 2010, pangolins were added to the Zoological Society of London's list of evolutionarily distinct and endangered mammals.  All eight species of pangolin are assessed as threatened by the IUCN, while three are classified as critically endangered. All pangolin species are currently listed under Appendix I of CITES which prohibits international trade, except when the product is intended for non-commercial purposes and a permit has been granted.
Pangolins are also hunted and eaten in many parts of Africa and are one of the more popular types of bush meat, while local healers use the pangolin as a source of traditional medicine.
Though pangolins are protected by an international ban on their trade, populations have suffered from illegal trafficking due to beliefs in East Asia that their ground-up scales can stimulate lactation or cure cancer or asthma. In the past decade, numerous seizures of illegally trafficked pangolin and pangolin meat have taken place in Asia.  In one such incident in April 2013, 10,000 kg (11 short tons) of pangolin meat were seized from a Chinese vessel that ran aground in the Philippines. In another case in August 2016, an Indonesian man was arrested after police raided his home and found over 650 pangolins in freezers on his property. The same threat is reported in many countries in Africa, especially Nigeria, where the animal is on the verge of extinction due to overexploitation. The overexploitation comes from hunting pangolins for game meat and the reduction of their forest habitats due to deforestation caused by timber harvesting. The pangolin are hunted as game meat for both medicinal purposes and food consumption.
Man, as with everything; the 'intelligent' destroyer of everything that lives in this world !