WAV Comment – Brilliant as always – 'The Guardian', London. They have recently undertaken so much work on live animal exports – well done them !
Now they help to expose the trade in live horses to Japan from Canada and France for human (meat) consumption.
Live animal exports are a major issue at the moment; we will continue to support the campaigns and to expose all issues whenever we can.
Regards Mark
Protests at 'inhumane' export of live horses to Japan for food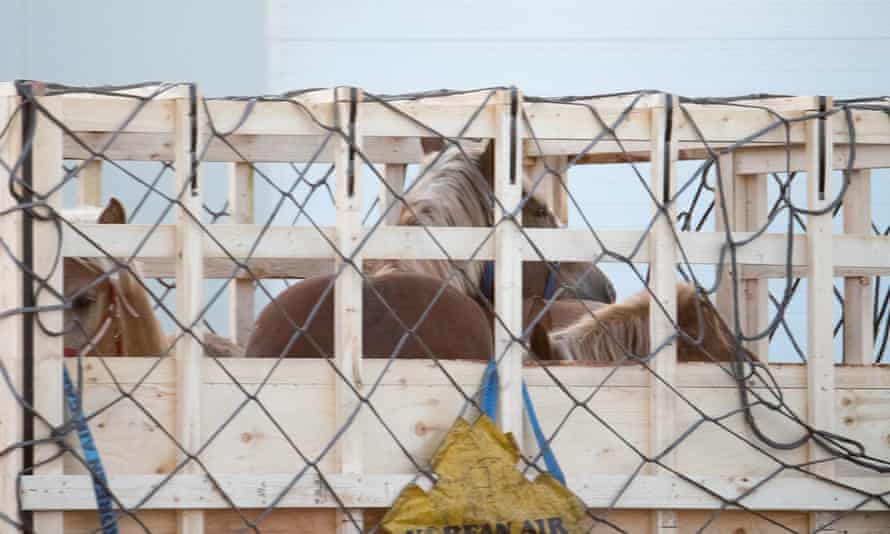 Activists seek ban on flying horses to Japan with thousands sent every year from Canada and France
Protests at 'inhumane' export of live horses to Japan for food | Animal welfare | The Guardian
Tens of thousands of horses are being subjected to long-haul flights, confined in crates with no food or water, to meet demand for horsemeat in Japan.
Since 2013, about 40,000 live horses have been flown to Japan from airports in western Canada. Under Canadian regulations, the journey can stretch up to 28 hours, during which the animals are allowed to go without food, water or rest.
The multimillion-pound global trade in fresh horsemeat to Japan is dominated by Canada and France. The little-known sector has burst into public view in Canada in recent years, fuelled by footage captured by campaigners of the near-weekly flights.
The footage prompted one vet, Judith Samson-French, to travel to the Calgary airport three times to see for herself what was happening. "As a veterinarian, I did not like what I saw," she said. "These horses have not been trained nor conditioned for this kind of transport."
She watched as the horses were loaded, in groups of three or four, into wooden crates that leave just the top of the animal visible. "You hear them in the crates," said Samson-French. "There's a lot of kicking going on there."
At times, the horses appeared to be too tall to comfortably fit into the crates, she said. "These are big horses," she added. "It's absolutely impossible for a horse to lay down in those crates."
She worried that the crating of horses, combined with the animals' high centre of gravity, could prove dangerous on a plane.
Once they land in Japan, the horses are taken to a government quarantine facility for 10 days. From there, they are moved to feedlots to be fattened up for up to a year before being slaughtered to meet demand for popular delicacies such as basashi, a dish of raw, thinly sliced pieces of horsemeat dipped in soy sauce and served with ginger.
Between 25% and 40% of Japan's horsemeat comes from imported animals, often in an attempt to save on the high cost of feeding horses, according to research carried out by the consultancy Williams & Marshall Strategy.
In 2019 Canada provided 71% of the live horse imports to Japan, in statistics that exclude purebred horses for breeding, followed by France at 21%
Canadian government figures show exports to Japan of live horses for slaughter began picking up in 2000 with the sale of 96 animals, worth C$231,000. A year later, the value of these exports had risen more than fivefold; by 2018 it was worth more than C$20m (£11.5m).