Between 2013 and 2020, the value of exports consistently topped C$10m. After reaching a high of 7,111 horses in 2014, exports dropped steadily with 1,606 exported in 2020.

France appears to have entered the market relatively recently, sending 80 live horses to Japan for slaughter in 2017.
By 2019 this figure had swelled to 959.

Stéphanie Ghislain, of the Eurogroup for Animals, said: "Around 2016 or 2017, the Japanese started to come to France to investigate where they could buy horses.". Much of the trade has been centred in the north-western region of Brittany, with the animals transported from France to Japan by plane, she added.
While France's agriculture ministry described the transport of live animals as a "major concern", it said in a statement that the "increase in Japanese demand for French horses is a sign of the excellence of our industry".
For live exports transported by plane, the ministry said checks are organised by local authorities at departure airports. EU transport standards have been set out to avoid overcrowding or risk of injury, it added. "The natural movements of the animals should not be hindered and access for care needs to be available."
Eurogroup for Animals, an animal welfare organisation, has said that there are not, as yet, any harmonised standards on vehicles used for equine transport.

In Canada, protesters from groups such as the Canadian Horse Defence Coalition have for years demonstrated against the flights, usually of 90 to 110 horses and departing early in the morning. The campaigners want a ban on the export of live horses for slaughter but also on the slaughter in Canada of horses for human consumption.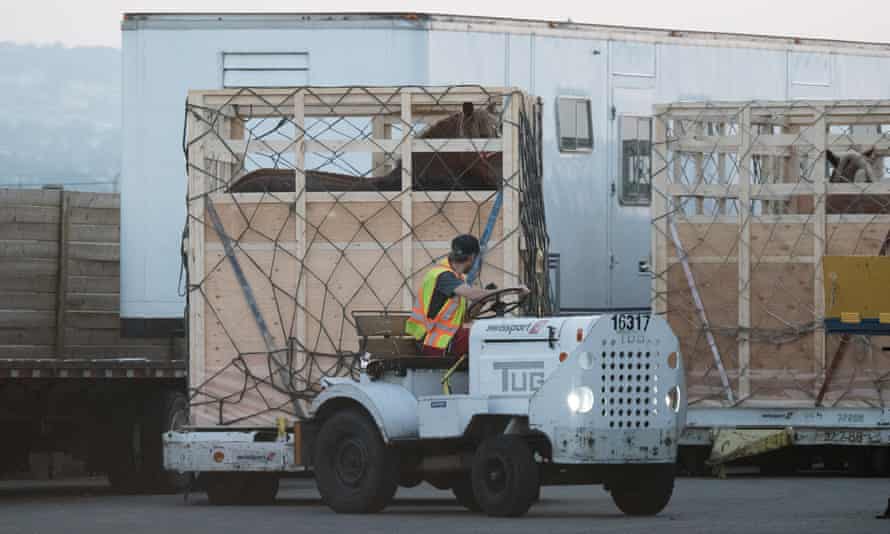 "It's inhumane," said Sinikka Crosland of the non-profit organisation. "Those crates are the size of a single conventional horse stall – what people would normally keep one horse in – and they're putting up to three or four horses into these crates."
Access to information requests filed by the organisation reveal some of the issues encountered during transport. In 2014, a horse described by a handler as "agitated upon loading" kicked through its crate and left a large hole in the aircraft fuselage. After the plane made an emergency landing in Anchorage, Alaska, it was discovered that the horse had died onboard.
Last year, five horses fell during a flight, including one that died. "It seems like [sic] dead one laid down right after departure and has been doing so all the way to Japan, so we assume it got sick before or during the loading process," the government correspondence noted. The four others were able to stand for unloading, though they "did not show physical strength", the document added.