Report from Association against animal factories, VGT Austria
Slap in the face – Salzburg Fiakers prevent heat-free!
After our years of campaigns and dozens of actions and a great outcry in the population, the Salzburg municipal council passed a heat-free regulation for Salzburg from 30 degrees from summer 2021 in autumn 2020.
Background:
In December 2020, a heat-free rule from 30 degrees was unanimously passed in the Salzburg municipal council.
The value should be measured directly in the city center. The application was introduced by the Salzburg citizens' list and will come into force in summer 2021.
😮 Now the decision turns out to be a zero number, the mayor refers to the small print: It was only decided to negotiate an amendment to the contract, "we could not force the horse cabs ("Fiaker") to do anything" (!!!)
And despite the decision, they continue to extend at a sweaty 30 degrees plus. Anyone who forces his horses to do this pointless activity in such heat cannot claim to like horses.
This Fiaker horse died while driving at the Burgring in downtown Vienna- Image: Marcello Farabegoli
VGT campaigner Georg Prinz said:
"It is no longer possible to work with these "fiakers". We therefore expressly request the city of Salzburg not to extend the contract with the horse cabs from 2023 onwards. "
Next Tuesday, June 22nd, we will again hold a rally in Salzburg from 4:30 p.m. to 7:00 p.m. directly at the Fiaker Stand place Residenzplatz, where signatures will also be collected for a new petition on the Fiaker ban in Salzburg.
✍ http://www.vgt.at/fiaker-salzburg
Please sign the petition and share it to many possible ones
https://vgt.at/actionalert/fiaker-sbg2021/index.php
https://vgt.at/presse/news/2021/news20210617mn_3.php
And I mean…These animals are only able to endure the noise and traffic of the city through the use of blinkers and often also ear plugs.
The long standing at the Fiaker meeting places with horses – which are in the natural so constantly in motion – is a great torture for their tendons and joints, let alone pulling the load on asphalt ground.
Many of these workhorses suffer from hoof diseases and joint problems, which will become massive with increasing age.
And even in their free time – if we can still speak of 'free time' with carriage horses- the horses usually lead a lonely and completely unsuitable life.
They work 365 days a year, their official working hours in winter are from 10 a.m. to 4 p.m. (at the 6-week Christmas market you can often see them until 8 p.m.), and in summer from 10 a.m. to 9 p.m.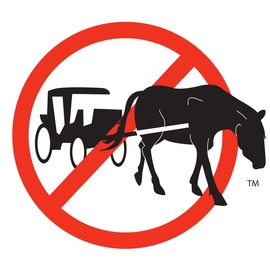 One thing is for sure: for carriage horses this traditional 'customs' means, and not only from the point of view of animal rights activists, a life-long torture!
At 'Salzburg Info' we read on the internet: "Today the "fiaker horses" are used exclusively for tourism and fun."
Instead of fiaker horses  it would be more realistic to say "slaves".
Because only slaves serve.
And that with the "fun", that's probably always been the language of the rulers and the slave owners
My best regards to all, Venus