The Jordanian government has made a groundbreaking decision: The regional authority for development and tourism for the Petra region has decided that 20 environmentally friendly electric vehicles should replace the horse-drawn carriages that previously used to drive tourist groups through the famous rock city.
We at PETA Germany and our international partner organizations welcome this animal-friendly step.
Electric vehicles are to replace tourist horse-drawn carriages
The decision of the Jordanian government is a groundbreaking step, which we hope will only be the first of many: In the future, electric vehicles will replace the tourist horse-drawn carriage rides through the archaeological park of the city of Petra.
In the past, tourists outraged by animal suffering had repeatedly turned to PETA.
Video recordings from PETA Asia show animal suffering and abuse: In addition to horses, donkeys and camels are also forced – often violently – to transport heavy loads and people over stony surfaces and slippery steps.
Due to public pressure, the electric vehicles will at least alleviate the suffering of the horses exploited in Petra.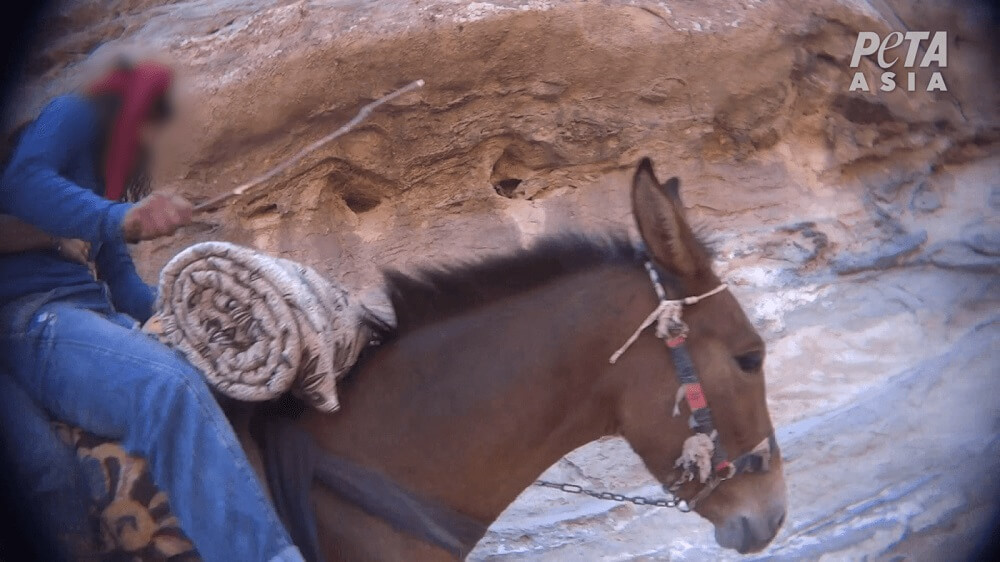 "In the future, horses will no longer have to suffer from being forced to pull heavy people behind them – the new vehicles will take care of that and we hope that there will be further developments of this kind soon." (Jason Baker, PETA Asia)
In October 2020, the Egyptian Ministry of Tourism announced that it would ban tourist camel riding and horse-drawn carriages at the Giza pyramids.
We hope that these important decisions are only the first steps leading to exclusively animal-free transportation.
Donkeys and mules have to transport people up and down hundreds of steps
Investigations have shown that mules and donkeys in Petra are forced to climb the 900 steps to the monastery with tourists on their backs, while horses have to pull full carriages through the rock city several times a day.
Since many animals in Petra are even denied shade and water while they have to pull heavy loads all day in the sweltering heat, PETA Asia got involved in a free animal clinic in front of the park.
It was also possible to document that animals are routinely beaten. A veterinary team helps numerous animals suffering from intentionally inflicted injuries, untreated lameness, colic, lack of nutrition or complete exhaustion. Since the clinic has been in operation, over 3,000 animals have been treated.
All animals that are used in Petra for rides and other work lead a life full of privation. Therefore, together with our partner organizations, we are calling for horses, mules, donkeys and camels that are used for other purposes to be replaced by mechanized vehicles.
https://www.peta.de/neuigkeiten/pferdekutschen-petra/
And I mean…If you Google "Petra" and "tourism", some of the first photos that pop up show tourists riding donkeys, horses or camels.
There have been animals in Petra since the beginning of time. The local people are descended from nomads.
They've always used camels, horses and mules for transport.
As tourism developed in Petra, these animals were used, or more precisely, abused to make visitors more comfortable.
The abuse is tied to the fact that tourism become a veritable economy for the local population and that, often, these animals represent their only income.
Bedouin tribesmen who work in the tourist industry around Petra, Jordan offer tourists the chance to visit the "lost city" on back of a horse, donkey or camel or by riding in a cart pulled by animals.
Hidden behind this tourist trade is rampant cruelty.

After a trip, the animals are tied up in the sun to wait for the next customers.
Many limp and suffer from colic or exhaustion.
Mules and donkeys are forced to climb the 900 steps up to the monastery and down again with visitors on their backs, while horses are forced to pull carriages on grueling 6-mile treks through the ancient city multiple times a day.
And camels cry out as their mouths are forcibly bound shut.

This shameful practice should have been replaced with the use of modern, animal-free vehicles long ago.
Jordans had already promised in 2018 to put an end to the cruelty to donkeys, camels, mules and horses, but new eyewitness video recordings documented that the animals are still being hit, stabbed and whipped in sequence to keep them moving .
Now Jordan has made a historic decision and this hell, at least for these animals, will soon be abolished.
This is news that makes us happy!
My best regards to all, Venus