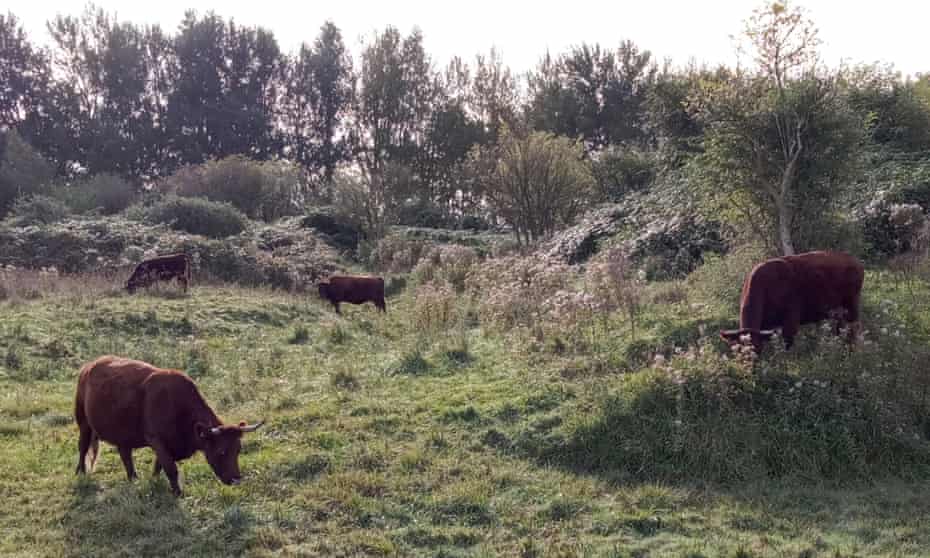 The rangers will manage the first wild bison to roam in the UK for thousands of years. Photograph: Tom Gibbs and Donovan Wright
Animals arrive in Kent in spring 2022 and will create forest clearings – described as 'jet fuel for biodiversity'
"When you see them in the wild, there's this tangible feeling of humility and respect," says Tom Gibbs, one of the UK's first two bison rangers. "The size of them instantly demands your respect, although they are quite docile. I wouldn't say they are scary, but you're aware of what they can do."
The rangers will manage the first wild bison to roam in the UK for thousands of years when four animals arrive in north Kent in the spring of 2022. The bison are Europe's largest land animal – bulls can weigh a tonne – and were extinct in the wild a century ago, but are recovering through reintroduction projects across Europe.
"They are magnificent animals, truly gentle giants," says colleague Donovan Wright, who spent 20 years working with rhino, cape buffalo and other large animals in southern Africa. "The Kent project is very different, but it's no less important."
Wright says: "How amazing will it be to track the largest land mammal in the UK on foot right here in [Kent]? To experience something like this only five miles from Canterbury would be just incredible, and help people reconnect with nature."
Gibbs and Wright have just returned from training with wild bison herds in the Netherlands, where they were reintroduced in 2007. The £1m Kent project is called Wilder Blean and is run by the Kent Wildlife Trust and the Wildwood Trust, and funded by the People's Postcode Lottery. A principal aim is for the bison to rewild a dense, former commercial pine forest.
Continued on page 2