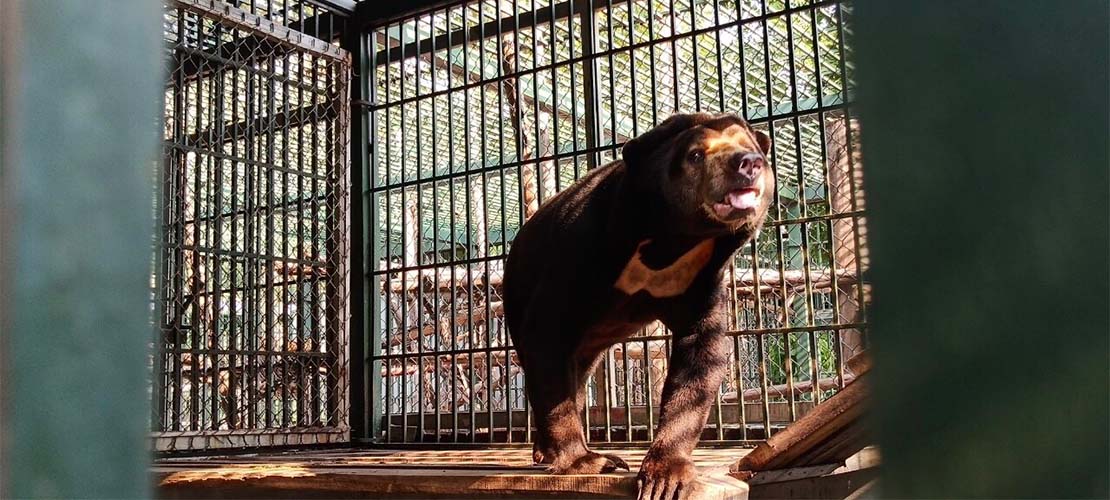 WAV Comment – we were happy to provide Animals Asia with a donation yesterday re on going work and updates at their Vietnam bear (rescue) sanctuary. As you can read below from Tuan, the sanctuary has just welcomed 6 new (ex bile abused) bears to their new forever home. Please continue reading below for more details. This will be their first Christmas free from the daily abuses and suffering for the bear bile industry, and we really welcome that. Free all the bears from suffering !
Regards Mark
Dear Mark,
Yesterday, thanks to the generous support of animal champions like you, we stood ready to welcome six more bears through the gates of our Vietnam sanctuary – just in time for Christmas.
The bears were being looked after at Hanoi Wildlife Rescue Centre before they made the short journey to their new forever home. The details of each individual are limited at the moment but I promise to keep you updated as we learn more.
What I can share with you, Mark, is that the group includes five moon bears – one of whom is a gorgeous little cub around the same age as our other recent arrivals Wonder, Yên and Marvel – and one sun bear, who we hope will thrive when bonded with our resident rescued sun bears.
In the spirit of the festive season, we've named the sun bear Angel and the five moon bears Thông (Pine tree), Noel, Pudding, Giáng Sinh and Tuyết (Christmas and Snow in Vietnamese).
It really is thanks to the continued kindness and generosity of supporters like you, that our Bear Rescue Team can be ready in a moment's notice to help a bear, or two or six, and provide the tender loving care they'll need long into the future.
And not only that, but your support is helping to foster invaluable relationships with local authorities and rescue centres like this one, which in turn will help more vulnerable animals throughout Vietnam. Thank you, Mark.
The arrival of these six precious bears means our Vietnam sanctuary is now only four places away from being full.
I understand that Christmas is a busy and expensive time for many. But if you're able, will you make a loving donation today?
Your festive goodwill could help provide ongoing care for our rescued residents, as well as help to build a life-changing second sanctuary to take in more broken bears.
If you've already sent across your special Christmas donation to the animals, please accept my heartfelt thanks for helping to give animals the lives they truly deserve.
I hope you're as overjoyed as we are to welcome six more beautiful bears to sanctuary, where, with your support, they'll be able to snooze, splash, munch, climb and wrestle to their heart's content.
With festive hugs of gratitude to you and yours this festive season,
Tuan Bendixsen,
Vietnam Director
PS Please note that our offices will be closed for Christmas from 23 December and will reopen on 4 January.
Regards Mark