On July 15th, the Puebla State Congress in Mexico approved an initiative tabled by local MPs with 34 votes in favor, 0 against and 2 abstentions that criminalize the operation of illegal slaughterhouses and the slaughter of animals without prior stunning represents.
This initiative comes after discussions that Animal Equality in Mexico participated in with various authorities in the Puebla government to reach a final consensus.
Aitor Garmendia / Tras los Muros-Mexico
What is the problem?
Secret slaughter harbors public health risks, contamination from poor waste management and, above all, great suffering for the animals.
In addition, it is not checked whether prohibited substances have been administered, such as growth promoters, which affect the health of animals and humans.
In addition, it does not comply with the official Mexican standard NOM-033-SAG / ZOO-2014 regarding methods of killing domestic and wild animals.
These places do not have the necessary infrastructure and tools to stun the animals before slaughter, causing them untold suffering.
Aitor Garmendia / Tras los Muros-Mexico
What does the reform say?
The reform adds an article to the chapter of the Puebla Criminal Code on crimes against animals as follows:
A prison sentence of one to four years and one thousand to two thousand times the daily rate is imposed on everyone who …
-has a room for unregulated slaughter, in addition to imposing the closure of the property whose purpose is slaughter.
– carries out the slaughter of animals for human consumption without prior stunning.
Although animals are not formally viewed as sacrifices in Mexico, this reform strengthens the understanding that these sentient beings are not objects and that we have an obligation to them.
In addition, there is no surveillance or job security in illegal slaughterhouses.
In several cases, minors carried out the slaughter.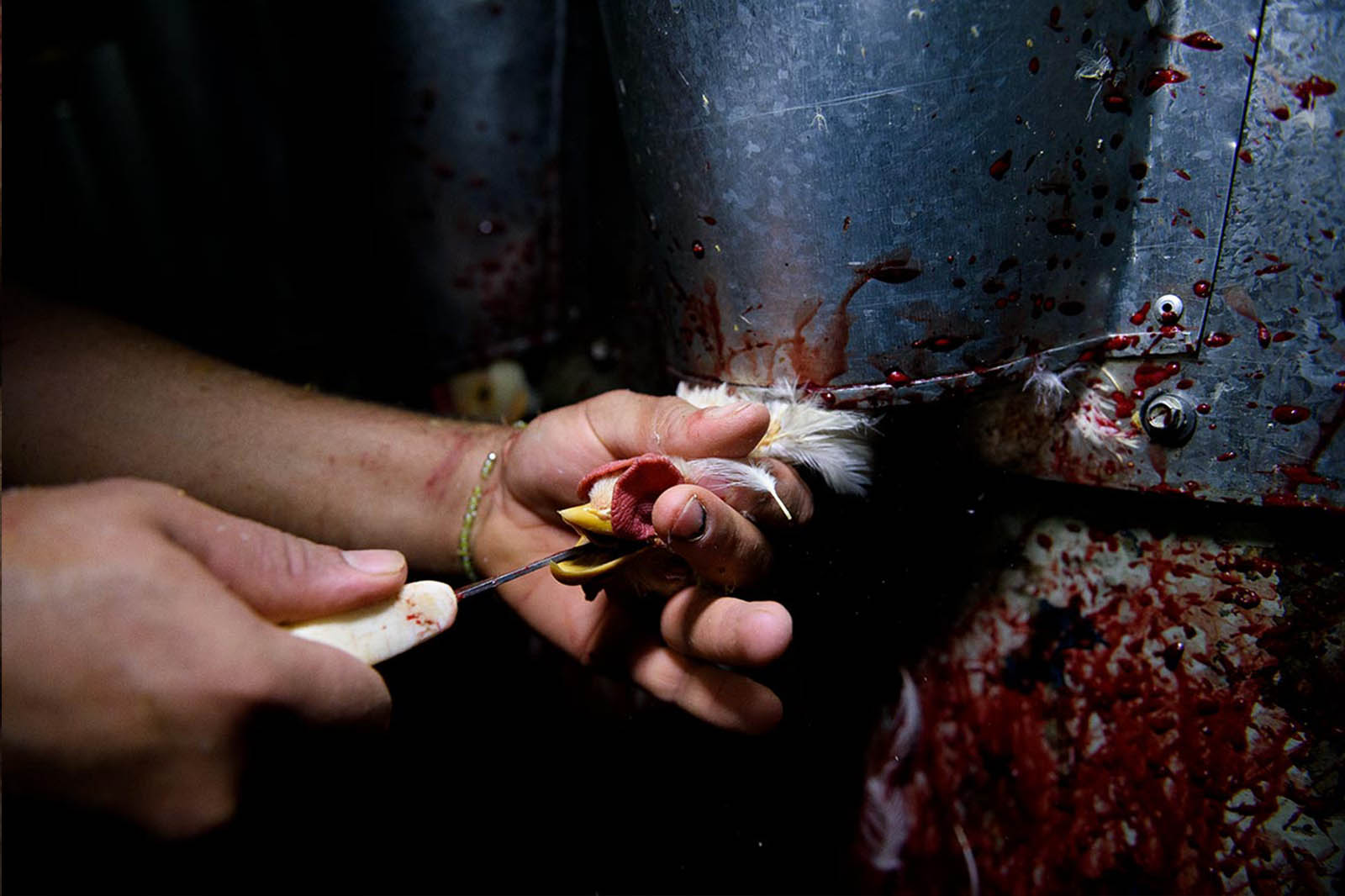 Aitor Garmendia / Tras los Muros-Mexico
In addition, such places are a potential source of infection, as hazardous waste such as blood is not properly disposed of, but goes straight into the sewer system or is simply dumped on the ground and covered with sand.
How many animals will this reform affect?
This reform will affect at least 109,756,542 animals.
It is the second initiative of its kind after that of Jalisco in 2019.
(We reported about it: https: //worldanimalsvoice.com/2019/04/08/mexico-jalisco-recognizes-animal-cruelty-as-punishable/)
Puebla is the state in Mexico with the second largest number of slaughters.
In addition, around 70 to 80% of the meat consumed comes from these illegal slaughterhouses, which is associated with enormous suffering for the animals and a health hazard for consumers.
"This is undoubtedly a very important advance in favor of animals, not just for Puebla but as a foundation and example for the whole country. This legal reform promotes the understanding that animals are sentient beings and that we have obligations to them ".
Dulce Ramírez, Animal Equality Mexico
And I mean…It's a small step, but if you read Animal Equality Mexico's reports on how animals are slaughtered in Mexico, you'll be happy about any positive change, even a small one:
– ALL pigs are fully conscious when stabbed.
-In none of the documented slaughterhouses are sheep and goats stunned before slaughter.
The legs of the animals are tied together, a worker pulls them across the floor by one foot and then cuts off their heads.
-Workers force the animals to move with blows and electric shocks.
-Workers kill more than three pigs at the same time. Some pigs try to climb over other pigs to escape impending death, while the workers kill the other pigs and start carving them up.
– Lambs will have their throats slit and their heads torn off while fully conscious.
Until now, Mexican law does not provide penalties for those who abuse and cruelly treat farm animals.
For slaughterhouses that violate regulations, the Animal Welfare Act prescribs fines that are comparable to a parking ticket.
However, these laws do not punish the person who cruelly abused animals.
Aitor Garmendia / Tras los Muros-Mexico
Does that only happen in Mexico?
Mexico is one of the world's leading producers of beef, chicken and pork. But no matter where you go to slaughterhouses around the world: You would never find anything other than animal suffering and brutal murder.
Crimes like this will happen anywhere in the world because animals are seen as goods.
Therefore, every step that gives animals a little more protection in this hell is very welcome and gives us hope for the future
My best regards to all, Venus