Welfarm is calling for a ban on the castration of piglets
19 November 2021
WELFARM
Welfarm is calling for a ban on the castration of piglets in its new campaign launched on November 4th in Paris!
For more than ten years, Welfarm has been campaigning against the castration of piglets. On November 4th, Welfarm has launched its campaign to call for a definitive ban on piglet castration: in just a few weeks, it will be prohibited to castrate piglets without anesthesia and analgesia. However, no measures have been taken to definitively ban physical castration despite the many problems that it causes.
Under these conditions, it is likely that piglets will continue to be mutilated.
Castration with anesthesia and analgesia is not a satisfactory solution in the long run. Indeed, as it stands now, no anesthesia and analgesia protocol allows to fully manage the pain of piglets during and after the procedure. Moreover, no current protocol seems compatible with the reality of farms.
Today, two alternatives that respect animal welfare exist:
The breeding of non-castrated pigs (known as "whole male breeding")
And immunocastration, which acts like a vaccine to block puberty in pigs.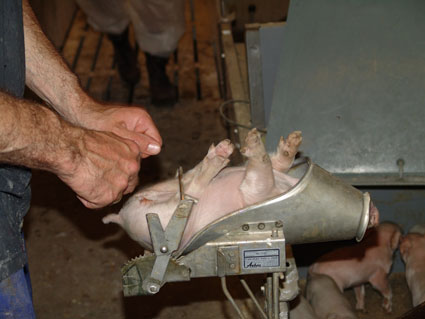 These two alternatives are reliable, economically advantageous for farmers and have been tried and tested for a long time in many European countries. Thus, for the vast majority of productions (cooked ham, pâté, rillettes, etc.) castration of pigs is no longer necessary.
Unfortunately, some meat companies, including the Bigard group (which is the market leader), are opposed to the development of these alternatives because they refuse to change their practices.
Castration should eventually be abandoned and replaced by alternatives that respect animal welfare. Welfarm therefore asks that castration under anesthesia and analgesia be authorised only temporarily in order to facilitate the transition to the definitive ban on piglet castration.
To find out more about the campaign, click here.
Read more at source
https://welfarm.fr/stop-castration-evenement-paris
Regards Mark