After an intense campaign by PETA USA, ExxonMobil – one of the last major sponsors of the brutal Iditarod dog sled race – has announced that it will sponsor the race for the last time in 2021.
ExxonMobil has supported animal cruelty in the Iditarod dog race for years
ExxonMobil has sponsored Alaska's sled dog race Iditarod since 1978 – most recently with around $ 250,000 a year.
The company helped finance the mistreatment, suffering, and death of numerous dogs; a total of over 150 animals died. With numerous demos in front of gas stations, posters, and an online petition, the oil giant was convinced not to sponsor the race in the future.
We at PETA Germany emphasized the campaign with an online petition to the European headquarters in Hamburg and a demo in front of the building and would like to thank the around 15,000 supporters of the petition.
The Iditarod has claimed hundreds of injured, exhausted, sick, and dead dogs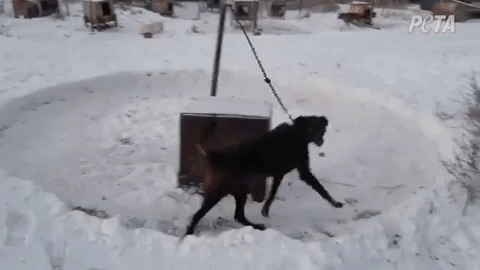 In March 2020, over 220 dogs were withdrawn from the Iditarod race because they were completely exhausted, sick, or injured.
That meant that the remaining dogs had to work even harder.
Over 150 dogs have died in the past few years – most of them from aspiration pneumonia caused by inhaling their own vomit.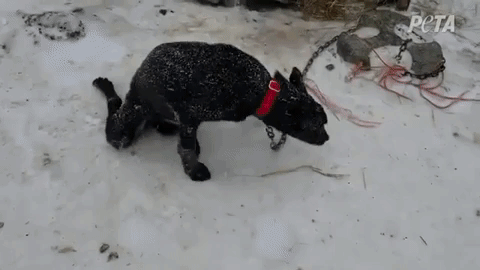 A PETA USA investigator was working in two kennels owned by former successful Iditarod participants where he encountered daily dog ​​suffering and gross neglect.
Dogs received no medical care, were chained to shabby boxes and plastic barrels in the freezing cold, and had to run even after they were completely exhausted and dehydrated.
A dog was dragged to death when a group of dogs managed to break free from a sled.
We applaud ExxonMobil's decision to stop supporting the brutal cruelty of animals at Alaska's annual dog sled race.
Because no dog wants to be chased to death voluntarily in the arctic cold.
No sponsor would co-finance an event in which people would be driven to their death in this way.
Corporations that continue to sponsor the Iditarod are speciesists; So they pursue a human-centered ideology that sees humans as superior to other species.
https://www.peta.org/blog/victory-exxonmobil-iditarod-sponsorship/
And I mean…Iditarod was founded in 1973.
The race is held in memory of a dog sledding expedition in 1925 that brought a vaccine to Nome to control a diphtheria outbreak.
There are several explanations for the name Iditarod.
One of them is that it refers to an ancient path that connected gold rush locations and port locations in northern Alaska.
Iditarod 'stands for animal suffering and greed for profit.
The participants are only motivated by the cash prize and do almost everything to get it. The animals run about 160 kilometers a day and are only allowed to rest for almost 40 hours over a period of two weeks.
The race takes place in the dead of winter and demands everything from the dogs.
Many injure themselves, fall into ice water, collapse, or get sick.
Their paws get sore from running and often your muscles give up at some point.
Most of the mushers come from the USA, Canada, and Norway.
Now! slowly the faucet of this money pit, which exists at the expense of the animals, is turned off!
There has recently been a doping scandal involving the four-time winner and young star Dallas Seavey, which means there are also image problems.
And then, one after the other, important sponsors drop out, so the Iditarod budget and prize money had to be cut significantly.
For example, carmaker Fiat Chrysler Automobiles has announced that Chrysler car dealer "Anchorage Chrysler Dodge Jeep Ram Center" in Alaska has endorsed the race.
Just a week before the start of the 2020 race, Alaska Airlines ended its decade-long partnership with Iditarod.
Two days after this announcement, Baird Private Wealth Management also responded and confirmed that it would no longer support the brutal race.
Most recently, the weighty financier Wells Fargo jumped out – now it is financially tight. We may only see the last race in Iditarod this year because now there are serious fears that the days of this bloody sport are really numbered.
But we have to keep pushing: here is the new petition to the Millennium Hotels- they have to withdraw their support to Iditarod, too.
https://headlines.peta.org/iditarod-race-will-leave-you-outraged/#takeaction
My best regards to all, Venus