Tigers Kept in Maggot-Infested, Rancid Barn—Take Action Now!
Since the days of holding protests outside the now-defunct Ringling Bros. and Barnum & Bailey Circus, PETA has been letting everyone know that animals trucked around for circuses suffer from emotional and mental distress as well as physical health issues.
In June 2021, a U.S. Department of Agriculture (USDA) inspection report about tiger exhibitor Adam Burck echoed these facts. It stated that the tigers used for Adam Burck's Royal Bengal Tigers act were kept in transport cages that prevented them from moving comfortably—let alone engaging in sufficient exercise—and that these conditions could have "a dramatic, negative impact on the health and well being of the animals." For instance, Shere Khan, a 15-year-old tiger, was notably thin, with prominent hip bones and vertebrae. Despite his visibly poor condition, he hadn't been evaluated by a veterinarian in over a year.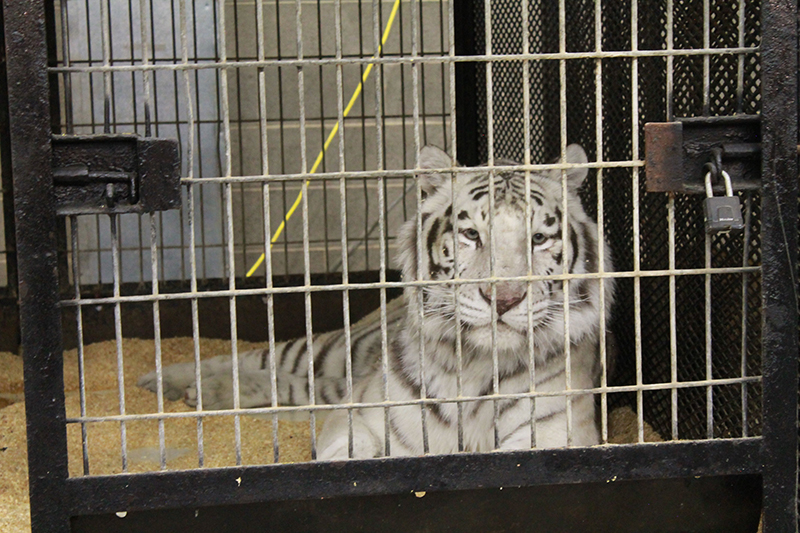 The USDA also found that the tigers were being kept in the transport cages inside a stifling-hot barn that was poorly ventilated. It had "a very strong rancid odor," and maggots covered the floor under and around the cages. In addition, there was no perimeter fence, so there was "a constant, ongoing potential threat" to public safety and to the animals. According to the USDA, the setup was "not at all appropriate" for dangerous animals.
These tigers are held in transport cages almost their entire lives. When they're on the road—which can be upwards of 11 months a year—Burck has a written policy stating that they must be in transport cages "at all times" except while performing, suggesting that they're denied any meaningful exercise for the entire tour season.
This hell has to end. Please politely ask Burck to do what's right and move these tigers to accredited sanctuaries now. You may use the sample letter below, but remember that it's always more effective to use your own words.
Please take action re the above link – Thanks – Regards Mark