WAV Comment – 'those times they are a changing' – through actions such as this people finally wake up to animal welfare abuses and the destruction of the environment.
This is what I love about us Brits – usually polite, good mannered, do the right things, usually obey the law, royalty etc – but when they know something is wrong, they get out there to try and put it right ! – Mark.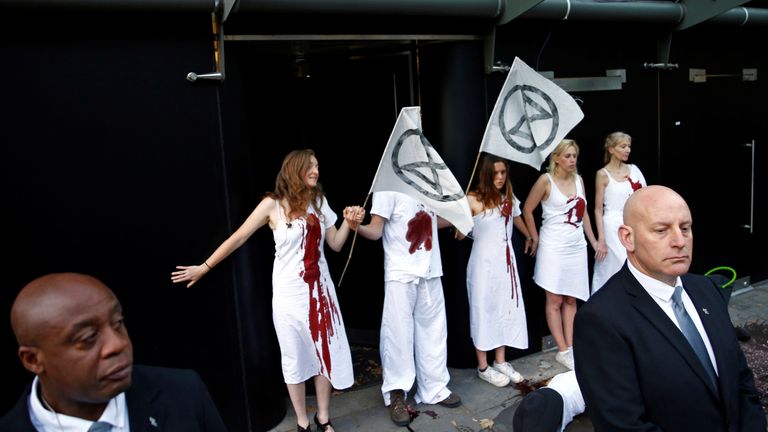 A group of environmental activists have glued themselves to the entrance of London Fashion Week's official opening as part of a protest urging action against climate change.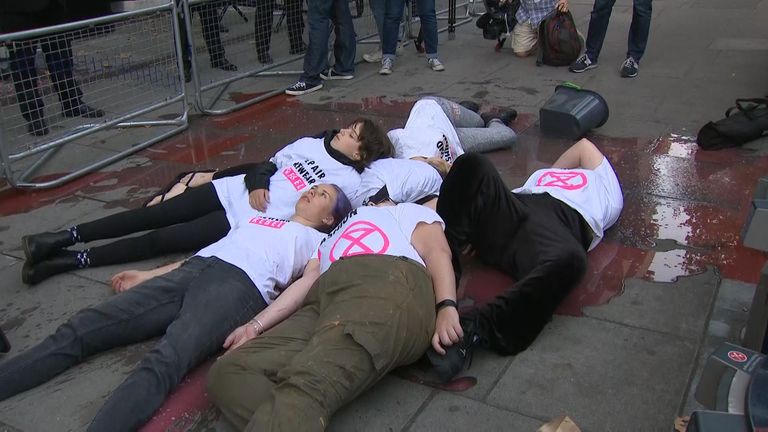 Five members of the Extinction Rebellion group, which brought major streets to a standstill in five UK cities earlier this summer, were photographed outside 180 Strand standing hand-in-hand in white outfits splattered with fake blood.
Video from the scene shows another group of activists lying on the ground in pools of fake blood while one campaigner read a poem about the environmental threats posed by the fashion industry.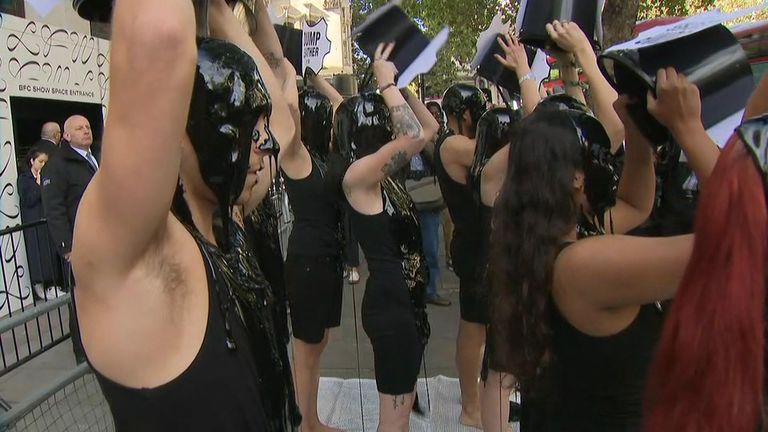 "The fashion industry is killing our planet," the activist began. "Every year, every month, every week, you abuse this Earth. You produce clothes for profit and pleasure, not for need.
"You choose profit over planet, profit over people, profit over our future. The fashion industry tugs at our heartstrings, it begs us to come into shops, feel its fabrics, don beautiful dresses, trendy tops, season's hottest handbags."
The speaker continued: "You entice us with shiny shimmering things, shallow empty promises and I almost fall into your trap, but then I ask 'Who made this, and where?' But you don't tell us the truth.
"We see your ads, beautiful bodies that make us feel that if I buy that dress, my body might look that beautiful too. But there is nothing beautiful about clothes whose making is destroying our planet."
In a statement on Extinction Rebellion's website, the group describes its actions as "having highlighted the blood on the hands of the industry due to its environmental record and that 'business as usual' will lead life on earth towards extinction".
In July, Extinction Rebellion sent a letter to the British Fashion Council (BFC) urging them to cancel London Fashion Week and in favour of a summit to address the climate crisis attended by industry professionals.
The group claims the fashion industry is one of the "most polluting industries in the world", pointing to the carbon footprint of international flights and shipping.
Extinction Rebellion plans to hold several protests during Fashion Week, some of which will take place outside main shows.
Their actions will culminate on Tuesday with a "funeral procession" beginning in Trafalgar Square to "reflect on the lives already lost and that will be lost as a result of climate and ecological breakdown".
https://www.independent.co.uk/life-style/fashion/london-fashion-week-2019-bleeding-red-carpet-extinction-rebellion-climate-change-a9103551.html
More:
https://www.theguardian.com/fashion/2019/sep/13/do-or-die-extinction-rebellions-die-in-london-to-end-with-fashion-funeral
https://www.standard.co.uk/news/london/extinction-rebellion-protesters-cover-themselves-in-fake-blood-and-stage-diein-at-london-fashion-a4235691.html