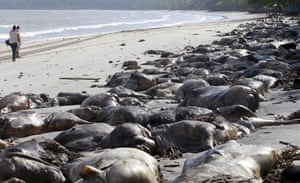 Above – Carcasses line a beach after a livestock carrier loaded with 5,000 cows capsized at Vila do Conde port in northern Brazil in 2015. Photograph: Reuters
https://www.theguardian.com/environment/2020/oct/28/exclusive-livestock-ships-twice-as-likely-to-be-lost-as-cargo-vessels
Exclusive: livestock ships twice as likely to be lost as cargo vessels
Billion-dollar export trade puts lives of animals and crew at greater risk of 'total loss' through faulty design and inexperience
Ships carrying live animals are at least twice as likely to suffer a "total loss" from sinking or grounding as standard cargo vessels, the Guardian has found.
In the past year alone there have been two disasters involving animals in transit. Last November, at least 14,000 sheep drowned after the Queen Hind capsized en route to Saudi Arabia from Romania. And last month, Gulf Livestock 1, a carrier transporting almost 6,000 cattle, sank off the Japanese coast en route to China from New Zealand. Forty crew members remain missing and are presumed dead.
"With the Guardian's shocking findings … [it's] time for an open and honest assessment of an industry that has caused one crisis after another," said Prof Kristen Stilt, director of Harvard's animal law & policy program, currently writing a book about the transport of live animals. "That assessment should recognise that the transport of chilled and frozen meat is the way that nearly all meat travels in commerce today. The idea of sending live animals is a holdover from a bygone era."
The global live export trade is worth nearly £16bn. For decades, campaigners have been calling on the EU to provide better protections for animals in transit, and an inquiry into the regulatory system is under way.
According to Guardian analysis, between January 2010 and December 2019 five livestock vessels were recorded as lost to sinking or irrevocable grounding, killing crew and animals. The total equates to just over 3% of the estimated 150 livestock carriers above 100 gross tonnes (GT) known to operate worldwide. The 100 GT measurement is used by the shipping industry to separate smaller vessels, often owned for pleasure, from larger, more probably commercial, ones.
The same loss calculation for the global cargo fleet of about 61,000 ships over 100 GT, shows that 471 vessels within that tonnage (excluding tugs, dredgers, fishing and passenger vessels), were lost to sinking or grounding in the same period – or less than 1%.
The Guardian's risk calculations are based on historical data from insurer Allianz Global Corporate and Specialty's Safety and Shipping Review 2020, analyst IHS Markit and the International Maritime Organization.

If the loss figure for livestock vessels expands to include two more vessels, sunk in December 2009 and September 2020, just outside the 10 years covered by the Allianz shipping safety report, used as a basis for the calculation, then the figure rises to 4.7%.
Select Page 2 below to continue reading more.