eid sheep slaughter – Google Search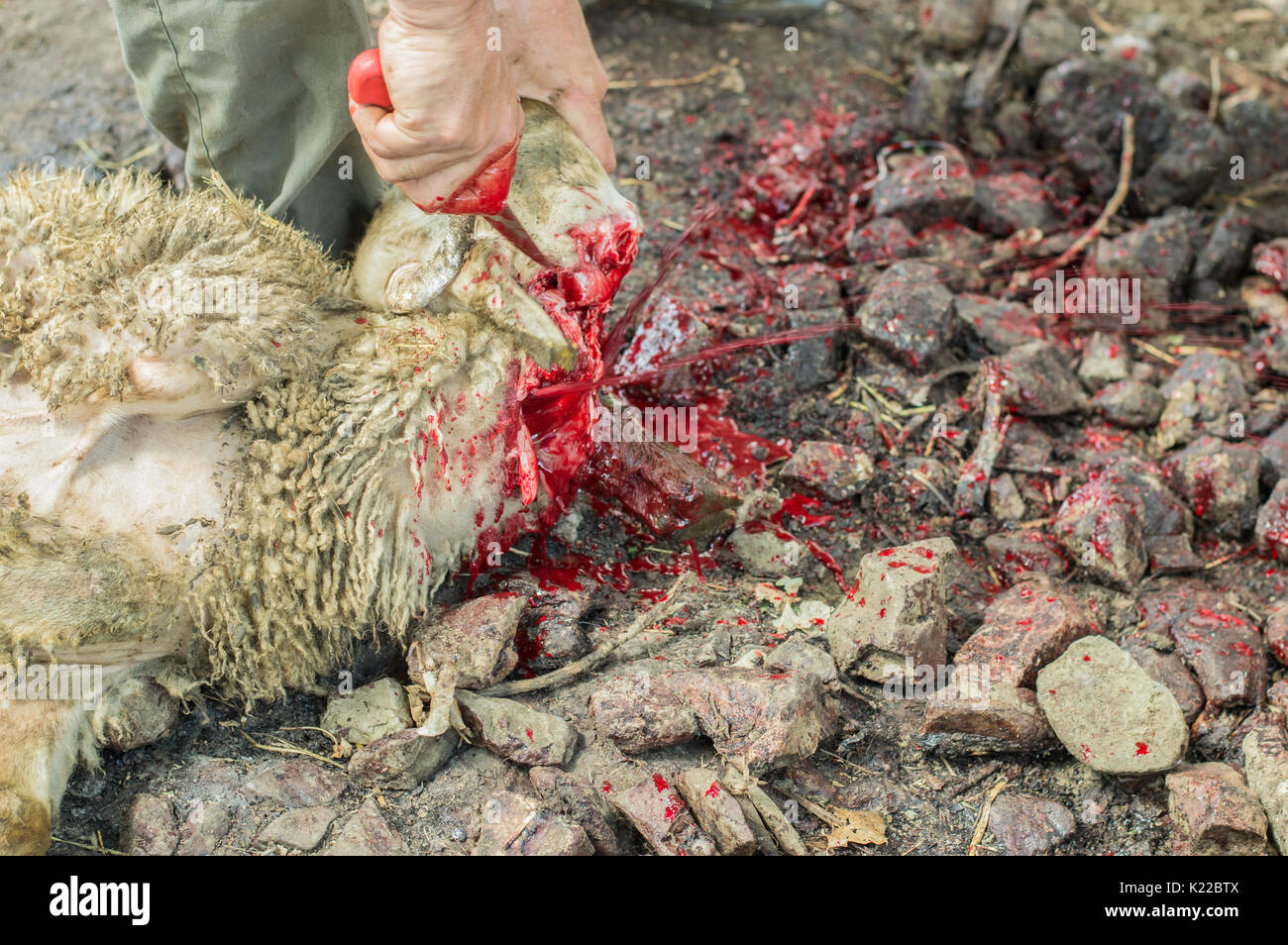 WAV Comment – I (Mark) have been involved with work against the live animal trade for nearly 30 years now.  I think that I have seen a lot of the abuses associated with this business over those years.  Got the T shirt and all that !
At the moment in England; we really only have the live trade going out of Ramsgate, which is a port here in my home county of Kent. Kent is the nearest county to mainland Europe, with very regular ferry services to the continent. Fortunately, due to excellent and very long, hard campaigning over many years; we managed to get all the major ferry operators (sailing from UK to Europe) to stop carrying live animals (for slaughter) on their ships. The only service which really operates sporadically now is from Ramsgate port by the Dutchman named Onderwater. He has been operating for a few weeks now; taking British sheep into Europe for ritual slaughter in relation to Eid. See the message below from Lyn at Animals Australia about this also.
See these links for more info /history relating to Onderwater:
https://worldanimalsvoice.com/2019/08/05/england-the-onderwater-facts-from-campaigner-jane/
https://worldanimalsvoice.com/2018/11/27/england-dutchman-onderwater-exports-scottish-calves-from-ramsgate-plus-more-info/
Mr Onderwater runs a Dutch registered company called Onderwater Agneaux BV. He pleaded guilty on behalf of his company at Folkestone magistrates' court on 5 July 2010 to six offences of not displaying any sign on his vehicles indicating the presence of live animals contrary to article 6(c) of the Welfare of Animals (Transport) (England) Order 2006 and article 6(3) of Council Regulation (EC) No. 1/2005 on the protection of animals during transport. The prosecutor was the trading standards department of Kent county council.
And here we are in 2020 with a convicted criminal still taking live British sheep into Europe for ritual slaughter. As with all politicians; the CAWG bleats on about how terrible things are for sheep to be exported from Ramsgate; and yet they are the political party with a big majority in government who could act to stop the trade and change it now. Instead they do nothing and continually go on about how terrible it all is. Yes it is terrible; so CAWG, get off your butts and do something to get your party, the Conservatives; to stop the trade. If they don't take action and instead just simply bleat on; then you have to ask what they really exists for ?
Here below is the message from Lyn; it is happening in England right now due to an ineffective CAWG and a useless Conservative government and animal 'welfare' group.  Boris Johnson specialises in talking the talk; but fails when it comes to doing anything. Once out of Europe blah blah blah; nothing changes thanks to him.
eid sheep slaughter – Google Search
eid sheep slaughter – Google Search
---
Mark,

Tomorrow is the start of Eid al-Adha, the annual 'Festival of Sacrifice' — one of the most lucrative times of the year for the global live export industry and, sadly, one of the peak times of suffering for animals.

Animals from Australia, Europe and South America have been exported to the Festival. It is the companies and countries that supplied these animals that bear the weight of moral responsibility for what lies ahead for them in coming days.

For some 15 years now, Animals Australia has had investigators on the ground during the Festival to document the final moments of animals, so that we have evidence to call these countries and companies to account. This year will be no different.

Despite the challenges of COVID-19 border closures, we will have investigators working across eight countries in South East Asia, the Middle East and North Africa. Our in-country work over many years has enabled us to forge invaluable relationships and friendships with local advocates and investigators who share our desire to see an end to the live export trade. They will be actively operating under our coordination during the Festival.

Already our investigators' work has paid 'dividends', with the lodging of evidence to the Australian regulator revealing Australian sheep being sold outside of approved supply chains in Kuwait. We know all too well what this blatant breach of exporters' responsibilities would have meant for these animals — transport in car boots in suffocating heat and a prolonged and painful death.

This complaint reveals once again that without independent oversight, Australian live export regulations can be easily circumvented. And once again, without our investigators being active, the Department of Agriculture would be none the wiser that breaches of their regulations were occurring.

Having witnessed the treatment of animals during so many Festivals of Sacrifice, I can report that the one small mercy we will see this year, is reduced suffering. This is because COVID-19 restrictions are dramatically reducing street sales and slaughter across all affected countries. As a result, we don't know exactly what our teams will find, but thanks to you they will be there.

As you can imagine, investigation work is highly risky for those who must live and work in the same regions, but these advocates' bravery is driven by their collective desire to see all animals treated humanely and with compassion.

I wish you could have come to know these advocates and investigators as I have. I am so very grateful to these incredible men and women who care so deeply for animals. They are the agents for change in their countries. Their desire for kindness and compassion to be extended to all beings is no different to our own.

And of course, I'm so grateful for your support that means these investigators can be where they need to be, equipped and ready. We speak to them of the critical support that you provide that enables these investigations. Please know that they draw strength from you, and other caring people, who they know will be with them in spirit in coming days.

Thank you, as always, for making our work possible — this year more than ever.

For the animals,

Lyn White AM
Animals Australia