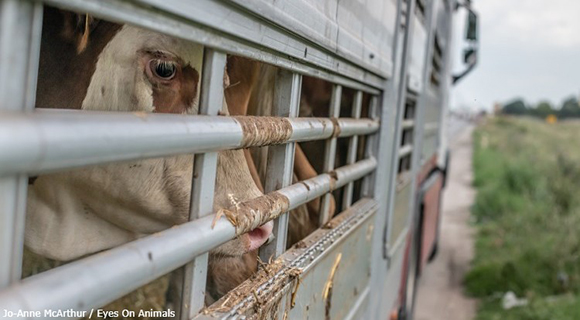 Today is "Ban Live Exports" International Awareness Day, an opportunity to speak up for the hundreds of thousands of animals who are forced to make long, harrowing journeys to their deaths.
Live animals, including babies and pregnant females, are transported hundreds or even thousands of miles from the UK to the EU and beyond in dangerous conditions and all weather extremes, causing them distress, injury, and disease. They can be in transit for days, often without sufficient food, water, or rest. Many die as a result.
Now that the UK has left the EU and its trade restrictions no longer apply, we have a realistic chance of securing a ban on live exports. Please write to environment secretary George Eustice – and ask all your friends to do the same – to urge him to prevent thousands of animals from suffering and dying on lorries and ships every year.
Take Action:
https://secure.peta.org.uk/page/62085/action/1?utm_source=PETA%20UK::E-Mail&utm_medium=Alert&utm_campaign=0620::veg::PETA%20UK::E-Mail::Live%20Export%20Awareness%20Day::::aa%20em&ea.url.id=4765410&forwarded=true