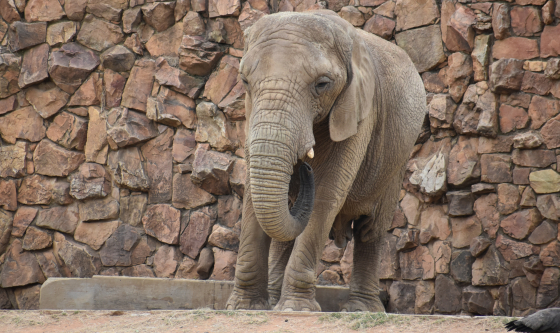 Lammie, a 39-year old female elephant at the Johannesburg Zoo in South Africa, suddenly found herself living alone when her partner of 17-years died in September. Since then, Lammie has been living out her days in an enclosure without the company of another elephant. She experiences little environmental enrichment, has little shade, lacks sufficient water to bathe in, and appears listless. Animal experts have expressed their deep concern for her mental and physical well-being.
Please urge that the Johannesburg Zoo rehome Lammie to the best equipped and available sanctuary!
Together, HSI Africa, along with our South African partner groups, the EMS Foundation and the Elephant Reintegration Trust, are fighting for Lammie. We have located a suitable sanctuary that will approximate a wild-like setting, won't offer any human-elephant interactions, and is graciously willing to offer Lammie a forever home with a group of elephants who would become her new family. But we need your strong voice to help change her life.
Urge the Johannesburg Zoo to make it possible for Lammie to live a happy life.
Elephants are highly intelligent and social animals, and Lammie is in desperate need of a happier existence. She deserves the chance to live out her years with other elephants. We've asked several times for an urgent meeting with the Johannesburg Zoo, the Johannesburg City Council and the Mayor of Johannesburg, Mr. Herman Mashaba, but they have not complied.
This is no life for any elephant to live. Please add your name to help free Lamie.
Together, we won't stop fighting for Lammie, elephants, and wildlife everywhere.
Thank you so much for everything you do to help animals.
Sincerely,
Kitty Block
President
Humane Society International