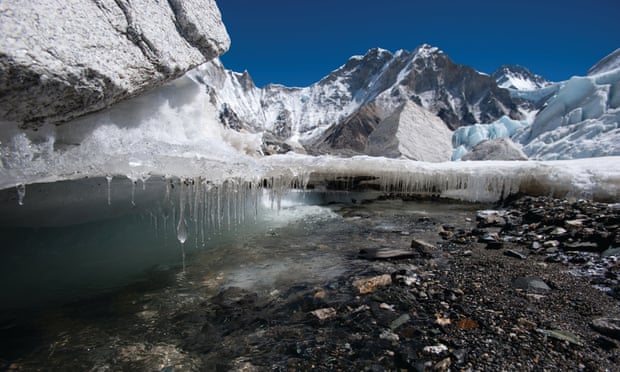 Melting ice on Khumbu glacier in the Everest-Khumbu region. Himalayan glaciers are a water source for 250 millions people. Photograph: Alex Treadway/ICIMOD
A third of Himalayan ice cap doomed, finds report
Even radical climate change action won't save glaciers, endangering 2 billion people
At least a third of the huge ice fields in Asia's towering mountain chain are doomed to melt due to climate change, according to a landmark report, with serious consequences for almost 2 billion people.
Even if carbon emissions are dramatically and rapidly cut and succeed in limiting global warming to 1.5C, 36% of the glaciers along in the Hindu Kush and Himalaya range will have gone by 2100. If emissions are not cut, the loss soars to two-thirds, the report found.
The glaciers are a critical water store for the 250 million people who live in the Hindu Kush-Himalaya (HKH) region, and 1.65 billion people rely on the great rivers that flow from the peaks into India, Pakistan, China and other nations.
Click on the above link to read the full disturbing article.
That`s Horst
Horst finds furs cool,
because he does not care about animals.
If you tell Horst that his fur did not die in the forest, it does not interest him.
That's why Horst always looks like the butt of a hairy dog in winter … and he talks like that.
Horst has no heart
… and no taste.
Don`t be a Horst.
(Image: B.Jost -Translation from Venus, with best regards)