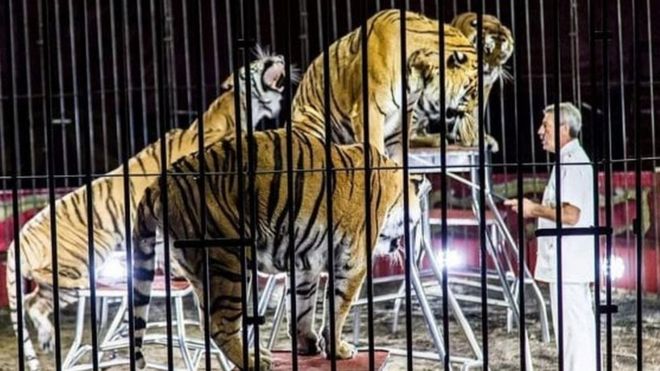 Weber 'training' his tigers.
Weber
WAV Comment:
Tigers are wild animals which belong in the wild – not servants of people like Weber performing pathetic tricks for the uneducated..
A famous circus animal trainer has died after four of his tigers mauled him to death while he prepared for a show in Italy. 61-year-old Ettore Weber was reportedly killed by the animals at around 7.30pm last night, July 4, at the Circo Ofei – Italy's most famous circus – near the city of Bari.
It is believed Weber was rehearing for his act when one of the tigers knocked him to the ground, the other three big cats then pounced on him and continued to maul the trainer.
According to La Gazzetta Del Mezzogiorno, the tigers played with Weber's body for around half an hour after he had died, as stunned medics looked on, unable to do anything. Fellow circus performers reportedly tried to drive the animals away, but to no avail.
Police are now conducting an investigation into the attack, trying to determine the events leading up to the attack and the attack itself.
Authorities at the scene say Weber suffered a number of serious injuries, including severe trauma to his spine.
https://www.unilad.co.uk/animals/top-circus-tamer-mauled-to-death-by-his-own-four-tigers/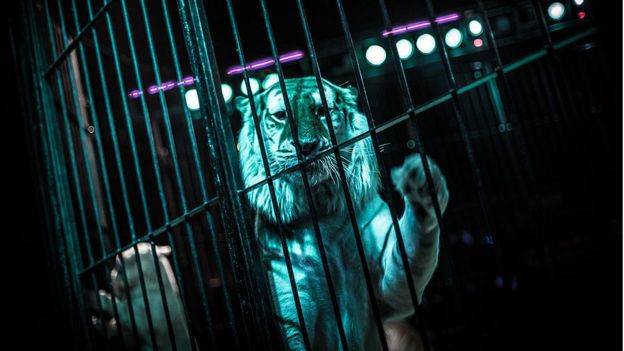 A caged circus tiger.
https://www.bbc.co.uk/news/world-europe-48886443
Four tigers have mauled their trainer to death during a rehearsal at a circus in southern Italy.
One tiger set upon Ettore Weber, 61, on Thursday evening in Triggiano, near Bari, before the other three joined in.
They then played with his body in their cage until paramedics and circus staff intervened, local media report. He later died from his injuries.
Mr Weber, who worked with the Orfei Circus, is said to be one of Italy's best known circus trainers.
He had been training the tigers at about 19:00 local time (17:00 GMT) for a show called Animal Park, which was based on travelling around the world and seeing different animals.
Some 40 countries have partially or fully banned the use of wild animals in circuses, including 20 countries in Europe.
 A Tiger in its Correct Environment – the Wild.
Play with fire and in the end you get burned !
Regards Mark