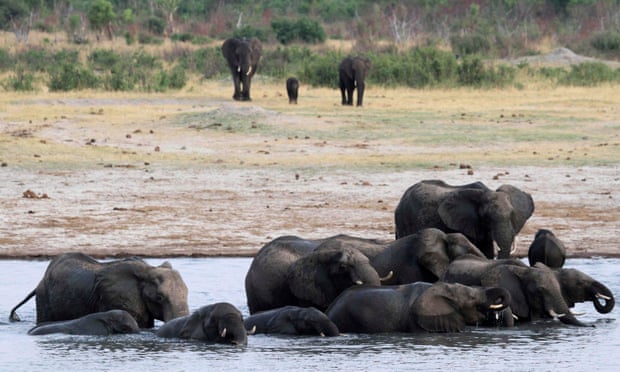 Photo – P Bulawayo / Reuters.
Zimbabwe ships live elephants to wildlife parks in China
Wildlife advocates said the animals, which were being readied for shipment on Friday night, were unsuitable for live export
More than 30 wild elephants were being readied on Friday evening for an airlift from Zimbabwe to captivity in China, according to wildlife advocates.
The founder of Zimbabwe Conservation Task Force, Johnny Rodrigues, said on Friday that their plane was still at Victoria Falls airport because officials could not find scales big enough to weigh the animals, which were confined inside heavy crates.
But once that was accomplished, he added, "they're gone". Some of the elephants are reportedly as young as three years of age.
Continue reading:
https://www.theguardian.com/environment/2016/dec/23/zimbabwe-ships-live-elephants-to-wildlife-parks-in-china
Illegal trafficking of baby elephants to China and Dubai for tourism must be stopped, say activists
An investigator has called on the international body that polices trade in wildlife to crack down on the illegal trafficking of young elephants across borders in south-east Asia.
Secretive agents in Laos are sending dozens of animals each year across the country's land border with China and fly others to the Middle East, earning up to £230,000 each, according to film-maker Karl Ammann.
The grisly racket – filmed for the first time by the investigative documentary maker – involves elephants being sold into slavery in circuses, zoos and "safari parks", earning owners huge sums from paying spectators.
Continue reading – https://www.independent.co.uk/news/world/asia/elephants-laos-china-dubai-trafficking-illegal-cites-tourist-trip-cites-stae-a8517431.html
Mr President: Selling wild-caught baby elephants to China is just plain evil
As another shipment of wild-caught baby elephants from Hwange National Park in Zimbabwe jets out of Victoria Falls airport on Ethiopian Airlines to zoos and private collections in China, it's surely time to call this for what it is: Just plain evil.
This is not a conservation or 'sustainable utilisation' issue – the removal of this quantity of elephants will certainly not impact significantly on wild elephant populations, or alleviate the claimed pressure from 'too many' elephants on vegetation in Hwange. This is also not about what is permissible under CITES regulations.
Continue reading – https://africageographic.com/blog/mr-president-selling-wild-caught-baby-elephants-china-just-evil/