Final Update 15/7 – 22-15hrs GMT.
We can confirm that the 70,000 Romanian sheep ARE now en route to Kuwait for slaughter.
Below our comments is the confirmation from EU sources
This is typical of the farce that is the EU, and which shows that Commissioner Andriukaitis is simply being ignored by member states who only do what they want to do. His pleas with them to stop the exports mean nothing – he is a man regarded as a joke.
Oh, now he is talking about 'infringement proceedings' against Romania because they have disobeyed him !
There is one way to stop all of this and that is to impose a maximum 8 hour journey time for all animals in transport. Commissioner Andriukaitis will not do this because he does not have the guts; and the meat mafia lobby will grind him down to crawl round every obstacle to meet their demands as they always do. In the meantime; our elected so called 'politicians' in the EU parliament just sit there and let it all go on – so what, another 70,000 animals which would have been slaughtered anyway.
Any wonder that EU citizens have no faith in the 'masters' that sit in the ivory tower called 'the Parliament'. MEPs and Commissioners are paid to take action – this is yet another example of how they are simply ignored by some member states who do not give a toss about animal welfare (Romania) – and only think about lining their pockets as a result.
We will watch to see what strict actions Commissioner Andriukaitis will take against Romania about all of this. Expect nothing as usual – he and the rest are all talk and no action.
---
EU Confirmation:
Today's Agri-Fish Council meeting saw a debate on live animal transport by the ministers in attendance, with the majority supporting Commissioner Andriukaitis' call for the suspension of journeys during summer.
In his opening speech on the topic, the Commissioner stated that Australia has banned live export during the summer season, stating that "the EU cannot lag behind." He welcomed initiatives from certain Member States that have suspended temporarily long-distance live transport in line with last year's request by the EU Commission.
On the subject of this weekend's decision by Romania to go ahead with the transport of 70,000 sheep from Romania to the Persian Gulf, Commissioner Andriukaitis said that the Commission is investigating the issue and that "infringement proceedings against Romania cannot be excluded at this time".
ENDS
————————————————————–
Old Info:
Please stick with us – we are finding out this info as we do searches.
Latest is below:
More More news
The Al Shuwaikh livestock carrier is:
AL SHUWAIKH current position is 40.92476 N / 28.87827 E on Jul 15, 2019 19:45 UTC. Vessel AL SHUWAIKH (IMO: 8506361, MMSI: 447070000) is a Livestock Carrier built in 1986 and currently sailing under the flag of Kuwait.
Current destination of AL SHUWAIKH is KUWAIT and the estimated time of arrival (ETA) is Jul 20, 06:00.
More news – 2019hrs 15/7/19
10/7/19 – Commissioner Andriukaitis asks the Romanian Minister to stop the shipment of 70.000 sheep
Commissioner Andriukaitis has called on Petre Daea, the Romanian Minister of Agriculture and Rural Development, to stop the cruel shipment of 70,000 sheep from Romania to the Persian Gulf. This is welcomed by Eurogroup for Animals and its member organisation Animals Australia, which carried out investigations of this terrible practice in previous summers and has been campaigning against it ever since.
The EU Commissioner for Health & Food Safety's request follows outcry from civil society and is based on the impossibility of guaranteeing the welfare of the animals transported under extreme temperatures.
70,000 sheep are expected to be loaded into the vessel Al Shuwaikh, owned by the Kuwaiti company Livestock Transport & Trading (KLTT), also known as Al Mawashi, and sent to Kuwait, Qatar and the UAE for the "Festival of Sacrifice" which takes place in August.
KLTT, a major exporter of Australian sheep, was the subject of a major scandal brought to the attention of the media by Animals Australia last year. This company has a long record of violations and is responsible for the onboard deaths of more than a million sheep in the past decades. In 2018 animals on KLTT vessels were found baking in their own skins, gasping for air, smothered in faeces  and unable to lie down to rest or even reach food or water. During such voyages, heat and humidity combinations reached levels that caused heat stroke, resulting in sheep literally cooking alive in the holds of vessels. 
Such visions of Australian sheep suffering and dying of heat stress created outrage across the country last year and led to major regulatory reforms – including the banning of the trade of live sheep from Australia during the Middle East's summer months. 
https://www.eurogroupforanimals.org/commissioner-andriukaitis-asks-the-romanian-minister-to-stop-the-shipment-of-70-000-sheep
"Taking into account the weather forecast in the Persian Gulf area during July" – said the Commissioner in his letter to Minister Daea – "I urge you as a gesture of responsibility to stop the imminent export of sheep to the Persian Gulf". He stressed the impossibility of complying with EU animal welfare legal provisions under extreme temperatures.
"We are pleased with the intervention of Commissioner Andriukaitis, and we urge the Romanian Ministry to respond positively to his call. Indeed, this shipment is likely to breach Art 3 of the EU Regulation (EC) 1/2005 stating that animals shall not be transported in a way likely to cause injury or undue suffering," says Reineke Hameleers, Director of Eurogroup for Animals. "At their destination, these animals will be slaughtered without stunning. To go through this after enduring terrible conditions throughout the voyage – if they survive at all – is barbaric. We cannot let this happen yet again."
Sign the petition and ask Romania's PM to stop this
———————————————————————————–
WAV Comment:
We have the ability nowdays to know exactly where the ship is at all times – where it is going to and its current position.
We do not have any proof, but strongly suspect (as we have done live export for about 30 years) that this consignment is going for the Eid al-Adha 2019 – the 'festival of sacrifice' – and will begin in the evening of 11 August and end in the evening of 15 August.  
We are expecting the Dutch (livestock exporters) to start exporting British sheep from the UK to mainland Europe for the same reason in the next few weeks.  We may give reports about this also in the near future.  One thing is for sure, the crap that is the EU don't give a damn about enforcement of regulations when it comes to live animal transportation; and the Romanians (an EU member state) will not give a damn either – making money at whatever cost is all they are interested in.
Update:  70.000 sheep cruel export from Romania to the Gulf: despite the urgent call from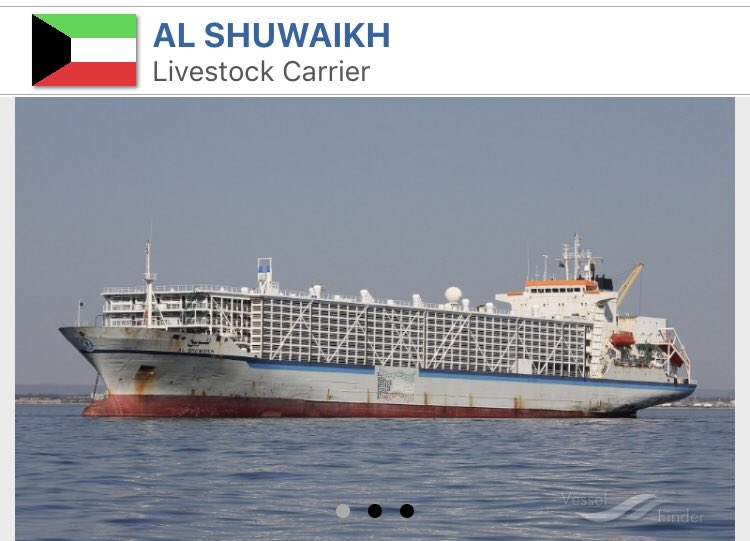 yesterday, we hear from reliable sources the KLTT ship is still waiting to dock in the Port of Midia, (Midia is a small Romanian port)  please help the sheep & call on
to stop the shipment